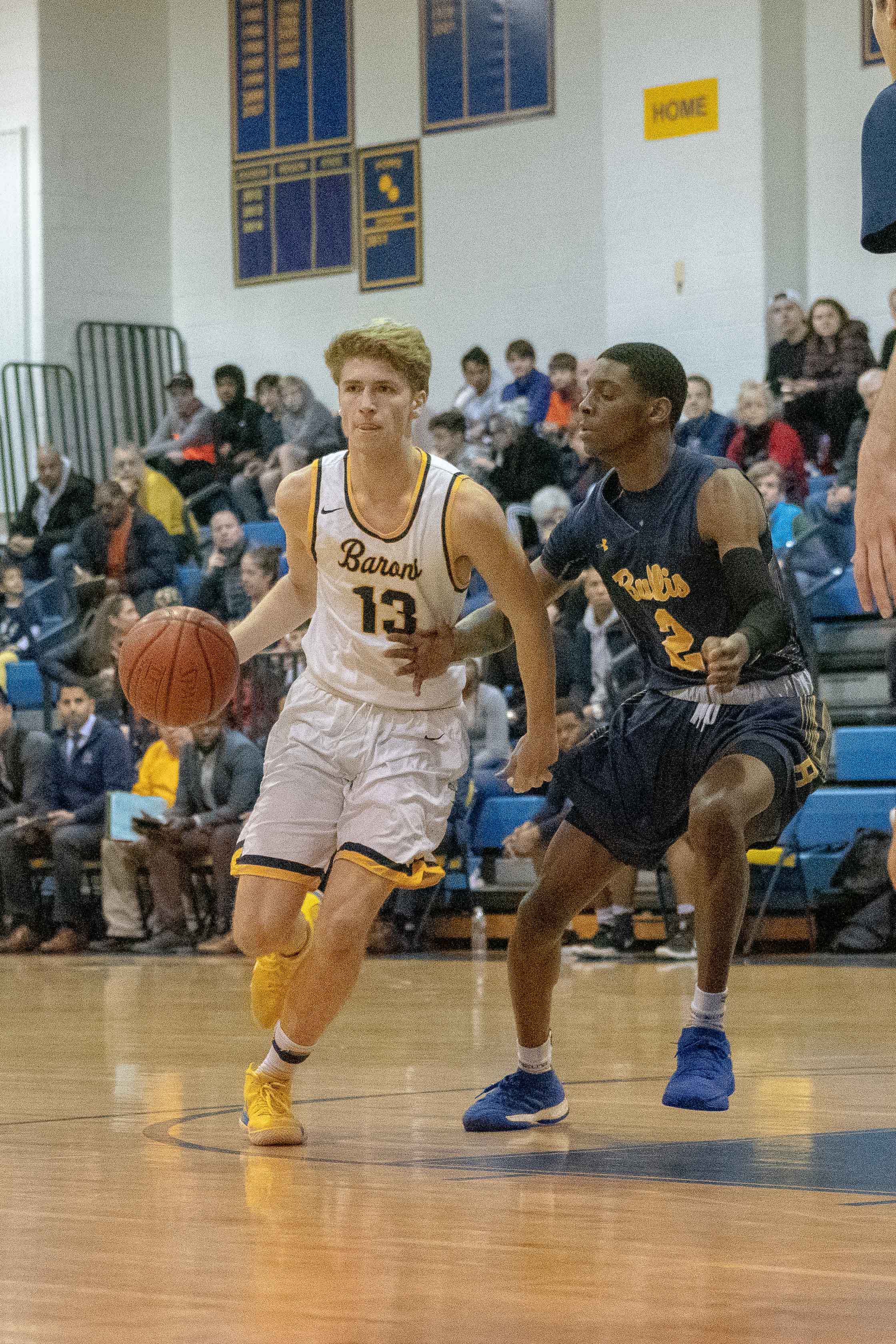 Bullis Rally Upends BCC Boys 63-58 in Basketball
Bullis fell behind by 19 points late in the third period of their basketball game with the B-CC Barons in Bethesda. Bullis had a furious fourth quarter rally of 26 points achieved in part by their shut down full-court press to take the lead for good with less than a minute remaining.
B-CC had this game up 50 to 31 with 2 minutes left in the third quarter. It was at this point the Bullis rally began. They went on a six-point run holding B-CC to two points to end the quarter 52-37. Led by Erik Reynolds 21 points, eight of which were in the fourth quarter. Bullis forced the Barrons to take ill-timed jump shots forcing errant shots that turned into easy baskets in the paint and caused B-CC to foul. Over the limit on fouls, B-CC put Bullis on the line where they hit 11 of 14 free throws in the fourth and a total of 19 of 26 for the game.
Cole Doherty, Cameron Etris and Kevin McAuliffe led the Barons to a 36-23 first-half lead. Of this trio only Doherty score in the critical fourth quarter and watched as their 15 point, fourth lead dripped way under pressure. In the last 10 minutes of the game when it mattered most B-CC was unable to score with any confidence from the outside. With the game tied at 56 and 1:04 left on the clock all B-CC managed to do was foul putting Bullis on the line in a bonus situation.
Bullis cashed in at the charity line and upended the Barons on their home court as the last of the clock ran out, the final was 63-58.
Phil Fabrizio
All Photos copyrighted 2018 © Phil Fabrizio | PhotoLoaf® for MCM