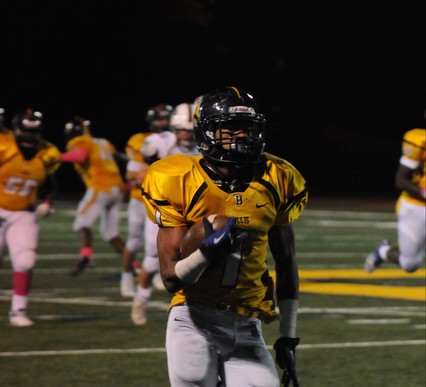 Bullis Running Back Devonte Williams Dominates Against Landon
It was the Devonte Williams show in Potomac on Friday night at the campus of The Bullis School. The Landon defense tried hard to contain Williams but the senior running back found a way to reach the end zone five times.
I unofficially have him at 200-plus yards due in part to his runs of 61, 61 and 38 yards. He also caught a pass for a touchdown from quarterback Dwayne Haskins. Next week's Bullis vs. Episcopal game will be the true test for Bullis. I am sure that game is circled among the many Interstate Athletic Conference faithful as the game that will determine the league champion.
The Oct. 24 final score: Bullis 41, Landon 14.
Star Light: #1 Devonte Williams, running back.
For more photos of our game of the week, visit http://sugarloafphoto.smugmug.com/MCMsports/