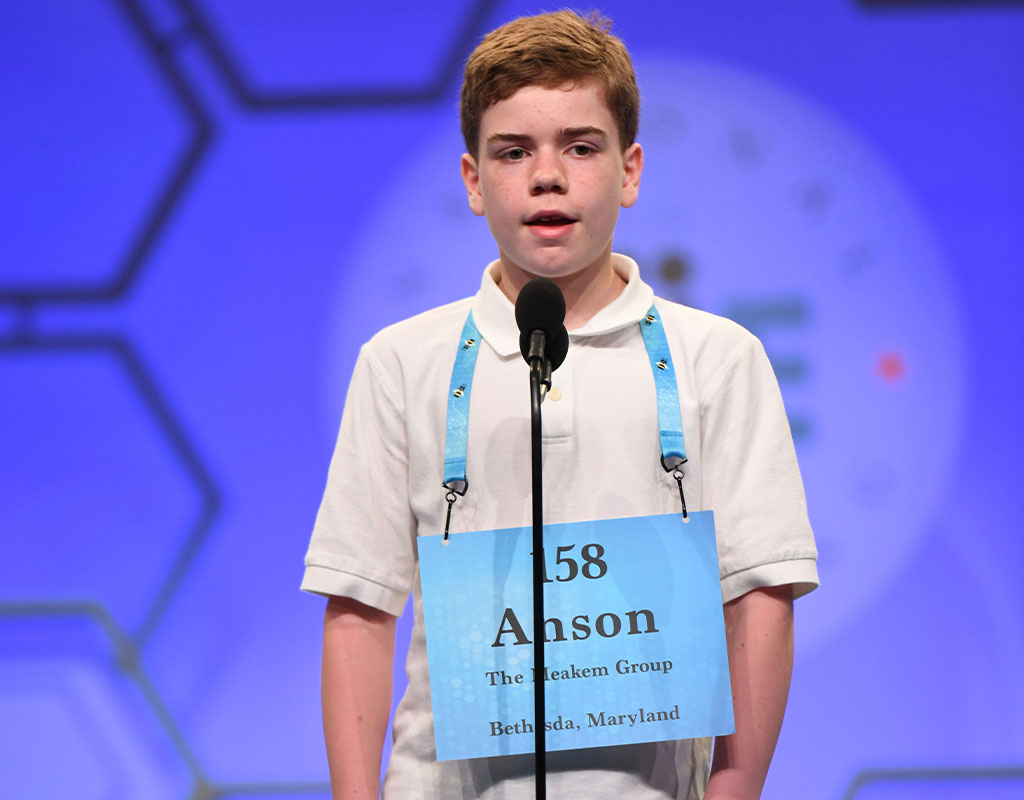 Cabin John Student Makes It to National Spelling Bee Finals
An eighth-grade student from Cabin John Middle School made it to the finals of the 92nd Scripps National Spelling Bee.
Anson Cook, 12, was one of the last 50 finalists standing in the spelling bee. This is the second year Cook competed in the bee.
Cook was eliminated Thursday for misspelling the word "ergodic" (an adjective, which Merriam-Webster defines as "of or relating to a process in which every sequence or sizable sample is equally representative of the whole").
Glenn Cook says his eighth-grade son was "stung by the spelling bee" three years ago. At the time, the Cook family was living in Chesapeake, Va. They moved to Potomac last summer.
Before he started the school year at Cabin John in September, Anson Cook contacted the school administration requesting that they start a spelling bee. They did.
We have a winner! After many rounds we can congratulate our first CJMS Spelling Bee winner, Anson Cook. Great job by all our contestants and thank you to them and Ms Shah and Ms Knox for organizing! #cjms #excellence #spellingbee pic.twitter.com/yGLKOu4qwm

— Cabin John MS (@CabinJohnMS) February 4, 2019
Glenn Cook said that his son's success comes from his own dedication and hard work.
"His mom and I would help him by giving him words and then quizzing him but he really took the lead throughout his spelling bee participation."
Anson's father said he's proud of his son's "continued kindness and humility. He is an absolutely kind and humble person and I admire his hard work and dedication but I'm most proud of his kindness."
#Speller158 Anson Cook lives up to his last name. He frequently COOKS for his entire family because he loves it so much. An impressive feat since he's the oldest of six. #spellingbee

— Scripps National Spelling Bee (@ScrippsBee) May 30, 2019
Next year, Anson will be a freshman at Churchill High School, and although he will no longer be eligible to qualify for the Scripps National Spelling Bee, he'll continue working hard, studying Chinese, and playing the piano.
When asked whether he has a favorite word, Anson said "no," but he does like the Welsh word "cywyddau," which is a plural noun for a type of poem.
Anson Cook: National Spelling Bee Extraordinaire
Here's a look at all the words Anson Cook spelled correctly at the Scripps National Spelling Bee.
#speller158 8th grader Anson Cook from Maryland spelled the word 'minestra' correctly #spellingbee #D in BeePlayAlong

— Scripps National Spelling Bee (@ScrippsBee) May 29, 2019
#speller158 Anson Cook spelled the word 'liman' (lee-MAHN) correctly #spellingbee

— Scripps National Spelling Bee (@ScrippsBee) May 28, 2019