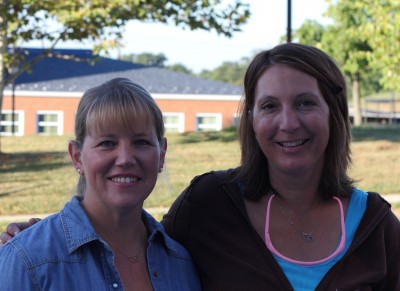 Featured Volunteer: Cameras! Sound! And….Hurry!
Having an ambitious shooting schedule can definitely bring out the best in a production crew as I found out this Saturday.
With that in mind, things that seem to be impossible sometimes turn into a beautiful reality.
This weekend started out with picking up the  reservations made two weeks ago, for equipment to shoot footage for our new hit series "Lip Gloss & A Sander" with host Bridget Edell, which airs on MCM Channel 21 on Wednesdays at 10pm and on Sundays at 5:30pm.
Although I was able to secure only one confirmed Field Camera Technician, Stephen Leard, we decided to keep the schedule virtually unchanged, we would shoot the conclusions for no less than three (3!) episodes of our show at four different locations.
I realized this was nearly impossible with a full crew of two Field Camera Technicians and a Production Assistant, let alone with only 1 Field Camera Tech who only available till 2 pm and without a PA.
To get a head start on Saturday, I thought it would be best to set up the first set on Friday evening, immediately following the equipment pick up as this was the studio/garage set up we've used many times before. Stephen and I were able to set cameras and light up in 35 minutes, so we were home in time for dinner.
Saturday morning the crew would start at 7am and our guest of episode 6, Kristi, was asked to come in 30 minutes earlier than the initial 8am schedule. But then we realized that the fumes of the spray paint technique used in this episode prevented us from shooting inside of the studio/garage so we had to change the entire set up from indoor to outdoor, with the added handicap of a quickly moving morning sun. Our schedule dictated that the finishing of the project could not go beyond 10:30am as we would have to strike down ALL our equipment, load it into the car and go to the next location. At 10am we called it a "WRAP" and we packed everything up and left to go set up in Dave's house, to film the "in House" conclusion of episode 5. We did not scout this location, so it's always a surprise what kind of filming opportunity we will find, but we have learned to adapt and this set was set up, taped and packed up within an hour and 45 minutes and we went to our next location. This was the "in House" segment with episode 4 guest Beth. After staging the set and  setting up the equipment, this scene was a "WRAP" in less than 40 minutes. By now it was 1:45pm and we decided to have some lunch as Stephen would have to leave at 2.
I was ready to record the last remaining segment, the "in House" scene at Kristi's house for episode 6 by myself, when Stephen gave me some great news; he had been able to rearrange his afternoon and would help us out at the last location! Talk about getting a break!
Lighting a porch during summer for a video shoot is a bit more complicated than most people might think. Outside the porch there is abundance of sunlight, but on the porch, compared to that outside light, it is extremely dark as the camera sensors get confused by the light spilling in from the background. There is a fine balance of natural and artificial lighting, but we were able to find that balance and finished taping this segment within 35 minutes.
By 4pm we were all packed and on our way to our own homes and families.
For me this was an exciting day, full of challenges and opportunities to put my experience into practice and with the amazing help from Stephen we actually pulled off a small miracle. Even today, 2 full days after this shooting day I'm still excited and proud of how well we did on Saturday and I can only hope that editing all this footage will go as fast and fluent as recording it.