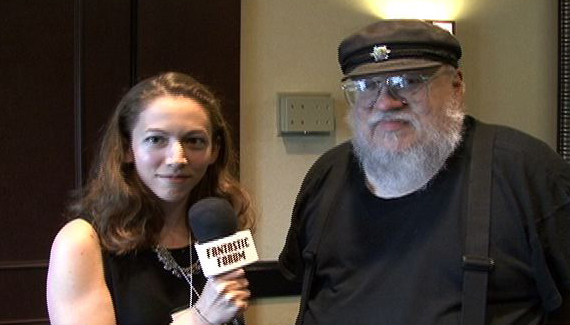 Capclave 2013
The New York Comic Con 2013 was Columbus Day weekend at the Jacob K. Javitz Center.  I didn't make it this year.  Instead, I attended The Washington Science Fiction Association's annual convention, Capclave, at the Hilton Washington DC North/Gaithersburg.  The Guest of Honor was author, George R.R. Martin.  Martin is best known for his, "Song of Ice and Fire," series which has been immortalized on cable television by HBO as, "Game of Thrones."
One of the highlights of the convention was listening to Martin read from the manuscript of his latest book in the series, "The Winds of Winter."  Of course, I've only finished the first three books so there were spoilers.  But it was a tremendous thrill to meet the author in person.  And he was gracious enough to consent to an interview.
FF panelist, Abigail Pritchard, made her debut as a special correspondent and conducted the interview.  And I was duly impressed with Abby's questions.  She managed to ask Martin some things that even he hadn't considered!  Watch for Abby's interview as exclusive web content before it appears on an upcoming episode.
Martin's appearance brought out the best in fans.  While usually not known as a cosplay rich convention, several attendees came in Game of Thrones inspired garb.  Here is a pic of the author with fans cosplaying members of the order of the Silent Sisters and another of Sansa and Arya Stark cosplayers.
This show was special for me as an old friend from my early years as a fan and costumer attended with his wife;  Mike McPhail and Danielle Ackley McPhail.  Mike and Danielle are science fiction convention regulars who celebrated their wedding anniversary at Capclave.  Danielle is an author and editor of the Bad-Ass Faerie Tales series.  Here is a group picture with FF panelists, Kat and Drew Bittner (Drew is also an WSFA committee member), Danielle, fantasy author/editor L. Jagi Lamplighter-Wright and me.
All in all I had a great time.  Well worth skipping New York.   And I understand that WSFA is trying to schedule Capclave for non-conflicting weekends in the future.  They'd signed their event contract prior to NYCC changing dates to coincide with Columbus Day weekend.   I'd love to be able to attend both shows next year.  This is a wonderful convention, particularly if you're a fan of science fiction and fantasy literature.  And the Gaithersburg location is great for residents of Montgomery County.
Keep watching, the best is yet to come!