Capriotti's Sandwich Shop, Smashburger & Revolution Cycles Coming to Twinbrook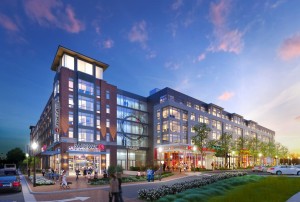 When Capriotti's Sandwich Shop opened on M Street last fall, Vice President Joe Biden visited to buy lunch for his staff. Now the Delaware-born eatery—which specializes in subs, salads and in-house roasted turkey sandwiches—is coming to Twinbrook, its first location in Montgomery County.
Capriotti's is just one of the latest new retailers to commit to Galvan and The Terano, two new mixed-use developments under construction by The JBG Companies in Rockville's Twinbrook district. Together, they will bring more than 130,000 square feet of retail space and more than 500 residential units to Twinbrook Metro station.
Voted "Greatest Sandwich in America" by thousands of AOL readers, Capriotti's best-selling sandwich, "The Bobbie," features in-house roasted turkey, homemade stuffing, cranberry sauce and a touch of mayo on a freshly baked roll.
For those craving burgers instead, fast casual destination Smashburger will join Capriotti's at Galvan, bringing its selection of classic American burgers—"smashed" to sear in their juices—to the Rockville Pike side of Twinbrook. The Denver-based restaurant chain is also known for its hand-spun milkshakes made with Häagen-Dazs ice cream and gluten-free hamburger buns, as well as a selection of local craft beers.
A mainstay in Washington's cycling community, Revolution Cycles will join JBG's property, The Terano, on the east side of Twinbrook Metro Station. The specialty bicycle sales and service shop is known for engaging all levels of cyclists, from beginners to pros; Revolution Cycles staff members organize weekly rides for all ability levels.
"Galvan and The Terano build on Twinbrook's infrastructure to create a vibrant, walkable district, with outdoor seating to activate the area," said Anthony Greenberg, a JBG principal. "The addition of Capriotti's Sandwich Shop, Smashburger and Revolution Cycles reflect JBG's commitment to bringing a balance of retail and residential to the Twinbrook community while concentrating new, sustainable development close to the Metro."
Located on the west side of the Twinbrook Metro station, next to the Rockville Hilton, Galvan will feature 356 best-in-class, highly amenitized apartments paired with a total of 100,000 square feet of retail. The property, whose retail space is 80 percent leased, will also include an Ethan Allen Design Center and more sidewalk cafes; delivery is expected in late 2015.