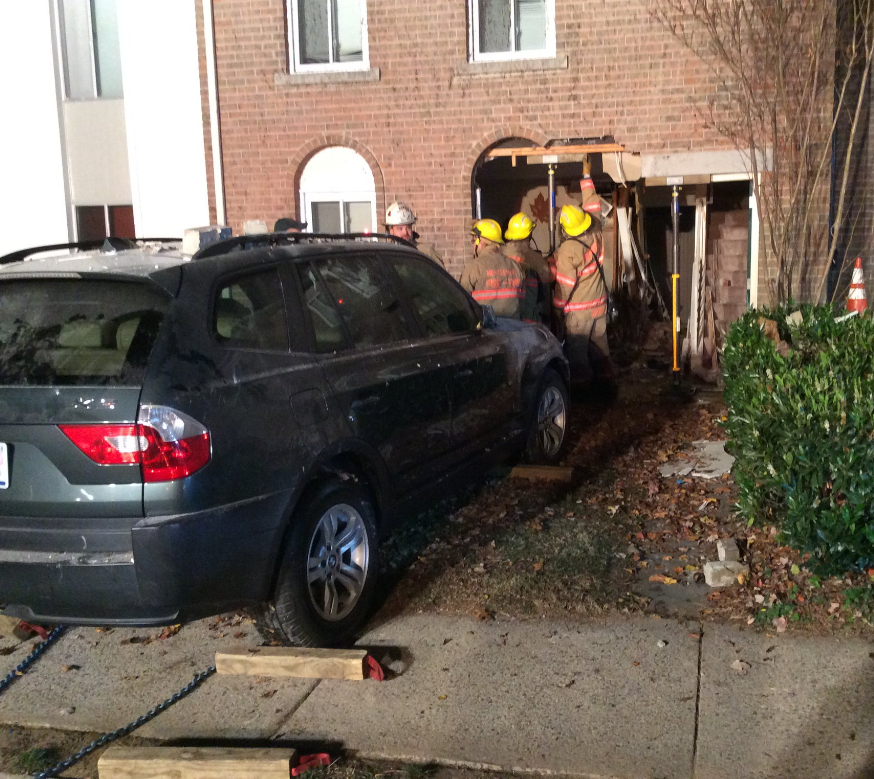 Car Crashes into Gaithersburg Townhouse (VIDEO & PHOTOS)
A car crashed into a Gaithersburg townhouse Tuesday night,  injuring one person, according to Fire and Rescue spokesperson Pete Piringer.
It happened at 11 p.m. on Keymar Way. Piringer said that the driver of the BMW SUV suffered non life-threatening injuries and was  taken to the hospital.
Firefighters evacuated three residents of the home. Piringer said those residents did not suffer injuries but are now displaced.
The home suffered "significant" structural damage, Piringer said. Crews operated 90 minutes, shoring up the house and removing the car.
The investigation continues.
ICYMI (11p 11/22) Gburg Car through front wall of TH, 1 adult NLT inj, 3 occupants displaced, TRT PS shoring, removing car then re-shoring pic.twitter.com/0QvXAYYmzx

— Pete Piringer (@mcfrsPIO) November 23, 2016
Update – Keymar Way, Gburg, car into MOR TH, EMS transported 1 (driver), all occupants ok, structural damage, 3 adults displaced pic.twitter.com/XjN35WxSqK

— Pete Piringer (@mcfrsPIO) November 23, 2016
ICYMI (11p) Tues 11/22 19315 Keymar Way, Gburg, car into 2-sty MOR TH, occupants ok, driver NLT inj, MCFRS Tech Rescue Team OS assisting pic.twitter.com/RXin1vvEOU

— Pete Piringer (@mcfrsPIO) November 23, 2016
Gburg – Car through front wall of TH, 1 adult NLT inj, 3 occupants displaced, TRT operated 90 minutes shoring, removing car then re-shoring pic.twitter.com/8SWtaD81sE

— Pete Piringer (@mcfrsPIO) November 23, 2016