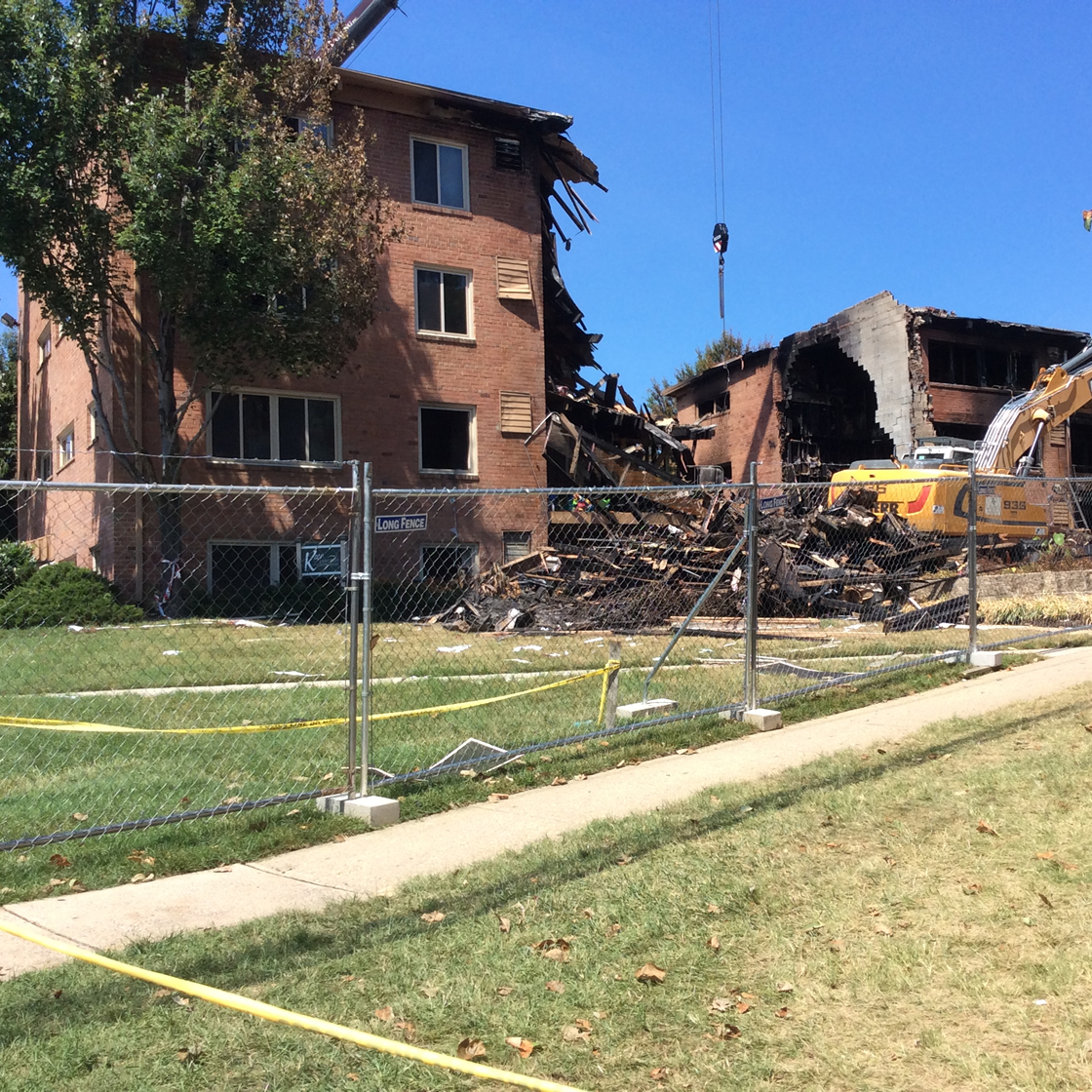 CASA Files Two Lawsuits on Behalf of Flower Branch Apartments Fire Victims (PHOTOS)
UPDATED Advocacy group CASA announced today that they filed lawsuits along with firm Bailey & Glasser, LLP against Washington Gas and Kay Management on behalf of the victims of the Flower Branch Apartments fire and explosion that happened on Aug. 10th.
"We have been waiting long enough and the victims are entitled to justice," CASA's Executive Director Gustavo Torres, stated in a news release. "We bring this lawsuit to force the responsible parties to finally give us straight answers to our questions.  Through the courts, we will discover what really happened that tragic night and fight to get just compensation for the families of the victims," Torres said.
The fire killed seven people, including two children. Approximately 150 people were displaced and at least 25 were injured, according to a news release. Several Flower Branch Apartments residents have also reported experiencing mental distress.
The lawsuit alleges that the fire and explosion could have been prevented. The news release states that Washington Gas failed to ensure the security of residents by not: repairing the gas leak, properly investigating and identifying the gas leak, warning residents, and/or calling for an evacuation. The suit also claims that Washington Gas failed to perform routine inspections that would have uncovered the potential dangers and saved the lives and property of residents.
"We have been working since August with the survivors of the Flower Branch explosion and fire to get answers about the cause of the explosion that devastated this community," John Barrettm, an attorney with Bailey & Glasser, said. "We've asked for investigation information from half-dozen government agencies. We've asked for information from Washington Gas and Kay Management. They've delayed and danced around our demands long enough. The victims and families are tired of waiting and we have been as patient as good conscience permits.  The lawsuits we filed today give us the tools to get answers," Barrettm said.
In the class action lawsuit CASA and Bailey & Glasser are seeking justice for families of victims and for all residents at the Flower Branch Apartments.
Washington Gas released the following statement regarding the lawsuit:
"First and foremost, our deepest and sincerest condolences remain with those impacted by what occurred in Silver Spring and we continue to support the community in every way we can. As you know, as a signed party to the NTSB's investigation of this tragedy, we are precluded from making any public statements about the details of their work or about our work with them in helping to determine what happened at the Flower Branch apartments. Similarly, we will be unable to comment on any filed or pending litigation related to it.  We would note that the NTSB does have a communications team to whom you can and should reach out."
Kay Management also addressed the the lawsuit on the company's website.
We r supporting and join forces with #FlowerBranch victims. Many children are undergoing PTSD. We call for #justice! pic.twitter.com/g3IfPkfn1g

— CASA (@Somos_CASA) November 2, 2016
CASA, #FlowerBranch #explosion victims and Bailey & Glasser firm file 2 law suites in an effort to bring #justice 2 victims & underserved pic.twitter.com/VBanqkB5H3

— CASA (@Somos_CASA) November 2, 2016