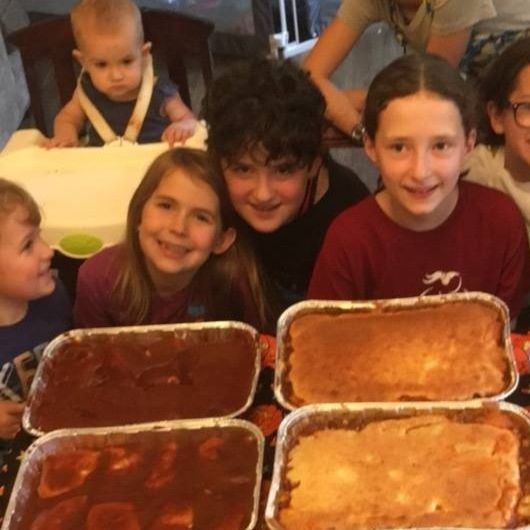 Casserole for a Cause Aims to Help Homeless
The months of January and February are often low in terms of donations for organizations that help to feed the most vulnerable individuals in the community.
To help offset that shortfall, staff at Silver Spring Cares held its "Casseroles for a Cause" event over the weekend aimed to help organizations keep their "freezers filled," according to organizers.
With the help of volunteers, more than 200 casseroles were made.  The casseroles will be donated to Silver Spring Cares partners: Shepherd's Table, Difference Makers, The Arc Montgomery, and Interfaith Works Men and Women's Shelters.
"As a new organization founded last April,  Silver Spring Cares seeks to connect people to purpose and what better way to start than through food," said Heather Foley, executive director for Silver Spring Cares. "The food prepared fills the tummies of our community's more vulnerable neighbors but the whole experience is really filling the soul of our community."
The casseroles, according to Silver Spring Cares partners, help to save money on food costs.
"Receiving casseroles, especially on a regular basis, helps us save money, gives our Chefs a much-needed break to make one less item for lunch or dinner, while ensuring that our guests are still eating high quality and delicious food," Jilna Kothary, spokesperson for Shepherds Table, said. "Often times, this assistance for one meal could give the Chefs time to make something more labor-intensive for the same meal, that they would not be able to otherwise, so it's a win-win."
"The casseroles help Carroll House save money on food costs and also save the staff time in preparing a meal. I know the residents will be happy to be on the receiving end of these donations," said Sara Cherner, community outreach coordinator for Interfaith Works.
For more information about Silver Spring Cares or Casseroles for a Cause, click here to be redirected to its website.
We're gearing up for #CasserolesforaCause this weekend! Help us reach our goal of providing 1800 meals to our neighbors in need. Sign up today! https://t.co/OVONFaYNOK #SilverSpringCares

— Silver Spring Cares (@SSP_Cares) January 30, 2018