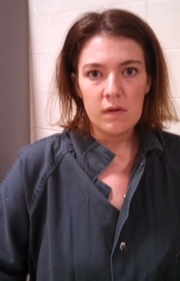 Catherine Hoggle Appears in Court, Defense Files Motion to Dismiss (PHOTOS & VIDEOS)
Catherine Hoggle appeared in a Rockville courtroom on Nov. 23rd for a status hearing about her competency and the judge assigned to the hearing also ruled against a defense motion that was filed to dismiss the charges against her in district court.
After the hearing, defense attorney David Felsen fielded questions about that motion and about his client's competency.
Judge William Simmons said the doctors at Clifton T. Perkins Hospital have determined in their most recent report that Catherine Hoggle remains incompetent to face the charges against her.
Hoggle, who is 29-years-old, has been held for over a year now and she is being treated for mental health issues at the state hospital. She was the last known person to see her children, Sarah and Jacob, before they disappeared in September of 2014. When she is determined mentally competent, she faces charges of neglect, hindering and obstruction in their disappearance.
During the hearing, Judge Simmons sent a new status court date on Hoggle's competency for 9 a.m. on Feb. 22, 2016.
Hoggle, who was handcuffed, never addressed the judge during the hearing. She did confer with her attorney. At one point during the hearing, Troy Turner, the missing children's father, moved from his seat in the courtroom so that he was directly behind her. Afterwards, he said he moved his seat so he could hear what was being said at the defense table.
Outside the courtroom, Turner said he telephoned Catherine Hoggle on Nov. 20th, which was their daughter's fifth birthday. According to Turner, he talked to her for 16 minutes. During that call, he hoped to learn where he could find their missing children.
Catherine's mother, Lindsey Hoggle, told reporters that her daughter's progress towards competency has nose dived since her September hearing. She's afraid to go to jail, Lindsey said of her daughter, saying that she believes Catherine feels safe at the state hospital.