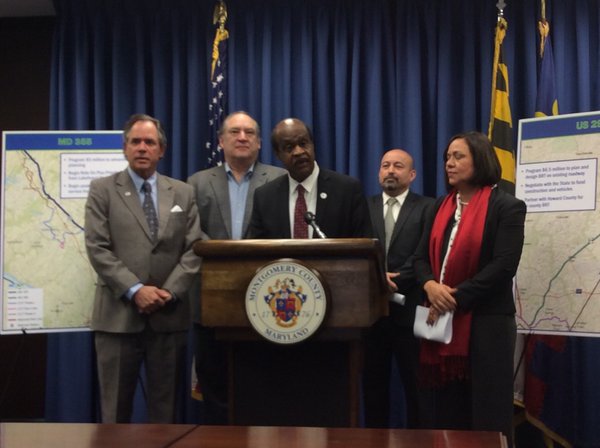 CE Leggett Unveils Plans to Move BRT Forward in Montgomery County (VIDEO)
Montgomery County Executive Isiah Leggett wants to get a Bus Rapid Transit system up and running in Montgomery County sooner than later. At a March 2nd news briefing, Leggett unveiled his recommendations for MD 355, US 29, Veirs Mill Road and his continued support for the Corridor Cities Transitway.
"The future economic vitality of our County depends on increased transportation investment to accommodate more residents and to encourage job growth," said Leggett in a memo to the Montgomery County Council. ""While we continue working the state to plan for longer term solutions as outlined in the Countywide Transit Corridors Functional Master Plan, I am committed to putting practical, cost-effective transit options on the ground in the near term."
Leggett was joined at the podium for this announcement by Department of Transportation Director Al Roshdieh, and County Councilmembers Roger Berliner, Marc Elrich and Nancy Navarro. Leggett credited Elrich as the catalyst for this plan.
"I could not be happier," said Elrich about Leggett's recommendations, noting, "this is a big deal." According to Elrich, if the county doesn't move forward with this plan, it's headed towards gridlock. "I don't think anyone wants to live with that," he said.
Berliner called today, "a banner day," for Montgomery County because of all the transportation news. (Just an hour earlier, Governor Larry Hogan announced the Purple Line is a go as the state has selected a contractor. ) Navarro said that BRT is not just about reducing traffic but that it also means jobs especially for mid and east county residents.
"Today is an exciting day for transit in Montgomery County," said Roshdieh. "We are very, very excited we are going to have BRT finally on the ground within four years."
You can read Leggett's recommendations, outlined in his memo to the Council, below:
MD 355
"I am committed to advancing BRT on MD 355 by partnering with the state on the $10 million cost for the next phase of project planning. Therefore, I am programing $5 million in my Capital Budget and calling upon the state to match my commitment to move the MD 355 BRT study to a Locally Preferred Alternative (LPA) stage. Following selection of a LPA, we will have the necessary detailed information to allow us to identify and allocate funds for design and construction.
"In addition, I am recommending Ride On Plus priority service from the Lakeforest Transit Center to the Medical Center Metrorail Station in less than two years. The service will be peak-period, limited-stop with specially branded vehicles and upgraded stops/stations, including amenities such as transit signal priority and real-time bus arrival information.
"I will also be funding peak period express Ride On bus service from Clarksburg to the Shady Grove Metrorail Station to begin spring 2017."
US 29
"I am recommending programming $6.5 million in my Capital Budget for the planning and design of a high quality US 29 BRT with the intent of getting this route up and running in less than four years. The entire route will operate within the existing pavement. Much of this BRT route will use the roadway shoulders as a dedicated bus lane. Other portions will operate in managed lanes with only limited sections in mixed traffic.
"Costs for construction and the BRT vehicles will be determined during the design stage. I am directing MCDOT to negotiate with the state to share in those costs and to partner with Howard County to leverage efforts for a bi-county BRT service. Having a bi-county BRT on US 29 with reduce traffic passing through Montgomery County that originates in Howard County thereby reducing roadway congestion for our residents."
Veirs Mill Road
"The current state-led BRT planning study on Veirs Mill Road will result in a Locally Preferred Alternative in FY 2017. Following a selection of a LPA, I will evaluate options for design and construction of the BRT.
"In the near term, I will request that the state fund the estimated $1.8 million annual WMATA operating cost necessary to implement peak-period, MetroExtra service on Veirs Mill Road."
Corridor Cities Transitway

"I fully support the state plan to seek federal funding for the CCT. The project has reached the 30 percent design milestone and funding for final design is included in the state's budget. MCDOT is actively exploring with the state opportunities to implement the system in phases to lower the initial cost."
Leggett said his recommendations include $1.25 million over three years for branding the county's BRT, community education and marketing of the new BRT service.
"The steps I have outlined with move transit forward in an efficient and fiscally responsible way by more effectively using our limited financial resources and existing infrastructure and timing projects to coordinate with development along our transportation corridors," Leggett said.