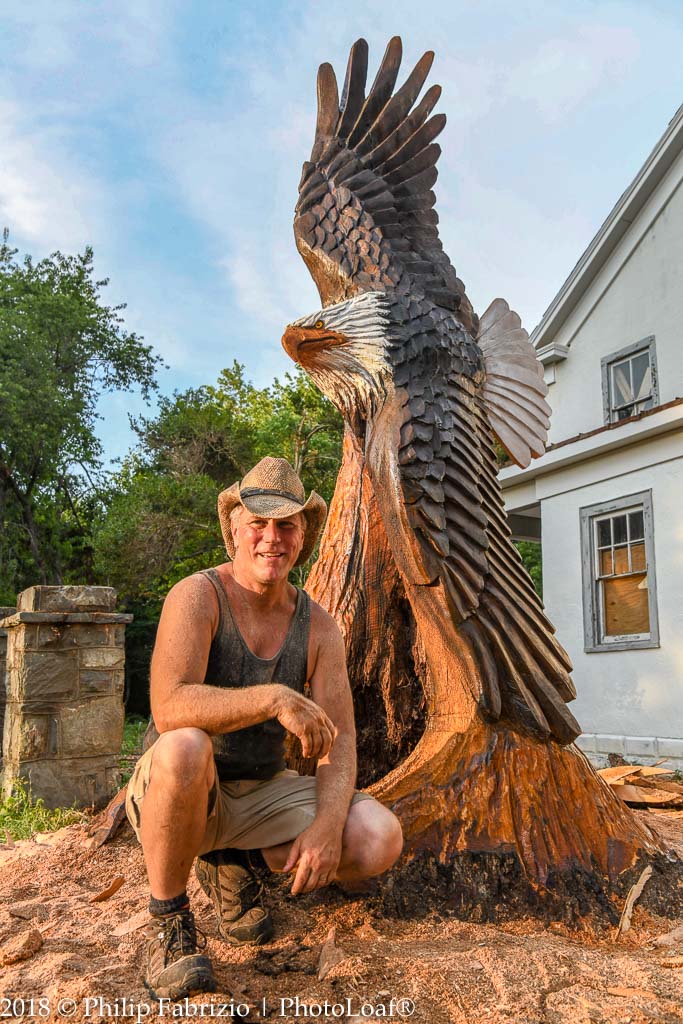 A Chainsaw Artist and Travilah's Eagle
TRAVILAH, MD – July 11 to July 16, 2018:
Among the county roads that now define Montgomery County, the intersection of Glen and Travilah Roads is at best an east-west commuter junction point.  This area stuck between Potomac and North Potomac known as Travilah, MD might have its own zip code should one day the US Postal Service ever decide to reopen a contract station.   So what happened in Travilah over six days in July slowed and stopped traffic brought together commuters, cyclists and nearby residents to gaze at an Eagle.
Depending on your route of travel it is either right, left, or straight at the four-way Travilah stop sign.  During past summer months its best landmark was the white and pink Jed's Shaved Ice Cones shed.  Across from that Jed's location on the opposite corner was a white house positioned under huge oak trees long forgotten and badly neglected.  A chainsaw artist, a developer with a vision and his white house will change that corner.
This local developer and resident on Glen Road recently purchased that white house possibly converting it into a bed and breakfast.  The house which dates back to the mid 18th century has undergone many transitions, as has the farming community of Travilah.  Now, the most recognizable transition could be a carved wooden eagle uncovered from a 150-year-old white oak tree.
Enter Paul Waclo, Chainsaw Carving by Paul, (www.chainsawcarvingbypaul.com), a chainsaw artist from York, PA.  He was contracted to create the Eagle wood carving, as well as, numerous other yard pieces for the property.  According to Paul, a media savvy artist, he was located by search of the internet on wood carvers.  Being somewhat local and well received in the MD and PA areas he was chosen to create the art work.
The owner of the property began the upgrading of the property in the June/July timeframe.  The white oak hung over Travilah Road and over the years branches had damaged the roof line and parts of the house as was visible from the road.  Once decide on the next steps, signs were placed to protect the tree.  Paul was called in and work began around July 10th and 11th.
The most noticeable evidence of the action was the Flagger Force road crews hired to control the 4-way stop intersection as the tree was shaped.  The crew was in place for a few days until Paul could begin the fine detail work of carving the twisted eagle form from the base.
Once the work began a neighborhood community group placed an iPhone set to video capturing the event and will eventually post an edited version of daily action.  Once I get that link for the video, I will report it here on MCM.
For my part, I had admired that old home for many years as it was on my route of travel to work in DC and VA.  I, along with many others who passed by, certainly wondered how this home could be revitalized.  Until Paul showed up with his Chainsaws and a shared vision little did we know how many had noticed.  Taking the time to snap a few pics seemed an easy thing to do to add to Travilah's history.
Paul would consume four gallons of water each day as he sculpts that eagle. Stopping every now and then to grab a jug of water.  That was the time for a wandering neighbor or local driver behind the wheel of a convertible, pick-up truck or Porsche to yell out their approval.  Many gave a thumbs up, a shout-out or just a gawking sense, wow, of amazement at the tree's transformation.
Little notice may have been given to the house.  For it too is being transformed.  The damaged roof and roof lines have been repaired.  New replacement windows are on order.  The exterior is begin saved and getting a fresh (long overdue) whitewash coat of paint.  The old pillars have been removed and replaced with plastic composite posts.  The yard surrounding the house underwent a general spruce up removing old growth and trimming back overgrown trees.
While many MoCo residents may have headed out to the sunflower fields in Poolesville the real happening was on the corner of Glen and Travilah.  Pelotons of cyclists who normally stop at the convenience store across the street would gather, or just ride by yelling their approval.  Neighbors would park at the Travilah Centre cross the street to take a picture and talk to Paul.  Paul, not one to disappoint, would graciously take the time to talk with any who stopped by or flashed a thumbs up from a car window.  He was just amazed at the amount of attention raised on this corner of Maryland horse and farm country.
Paul had budgeted five days, but late afternoon weekend storms shortened his rest time (before taking on his next project at American University – this week) to just one day of recovery.  Monday, July 16 was the day to put the finishing touches on the Travilah's Eagle.  He burned, painted, scraped, and airbrushed that eagle all the way to take flight.  With only a window of opportunity of two hours before sunset he crafted that bird to a final picture-perfect moment.
As Paul likes to say, he left a little of his love for that bird in the wood for all to see on the corner of Glen and Travilah Roads at Travilah, Maryland.
You can find more information on Paul Waclo, the Chainsaw Carving artist by going to his web site home page or Facebook page at: http://www.chainsawcarvingbypaul.com/
Facebook.com/Paul.Waclo
For a series of 150 photos from the six days of the event at Glen and Travilah Roads go to my photo website at
https://photoloaf.smugmug.com/Live/Travilah-Eagle/
All photos copyrighted 2018 © Phil Fabrizio | PhotoLoaf®
For MCM blogs
Slideshow to follow: