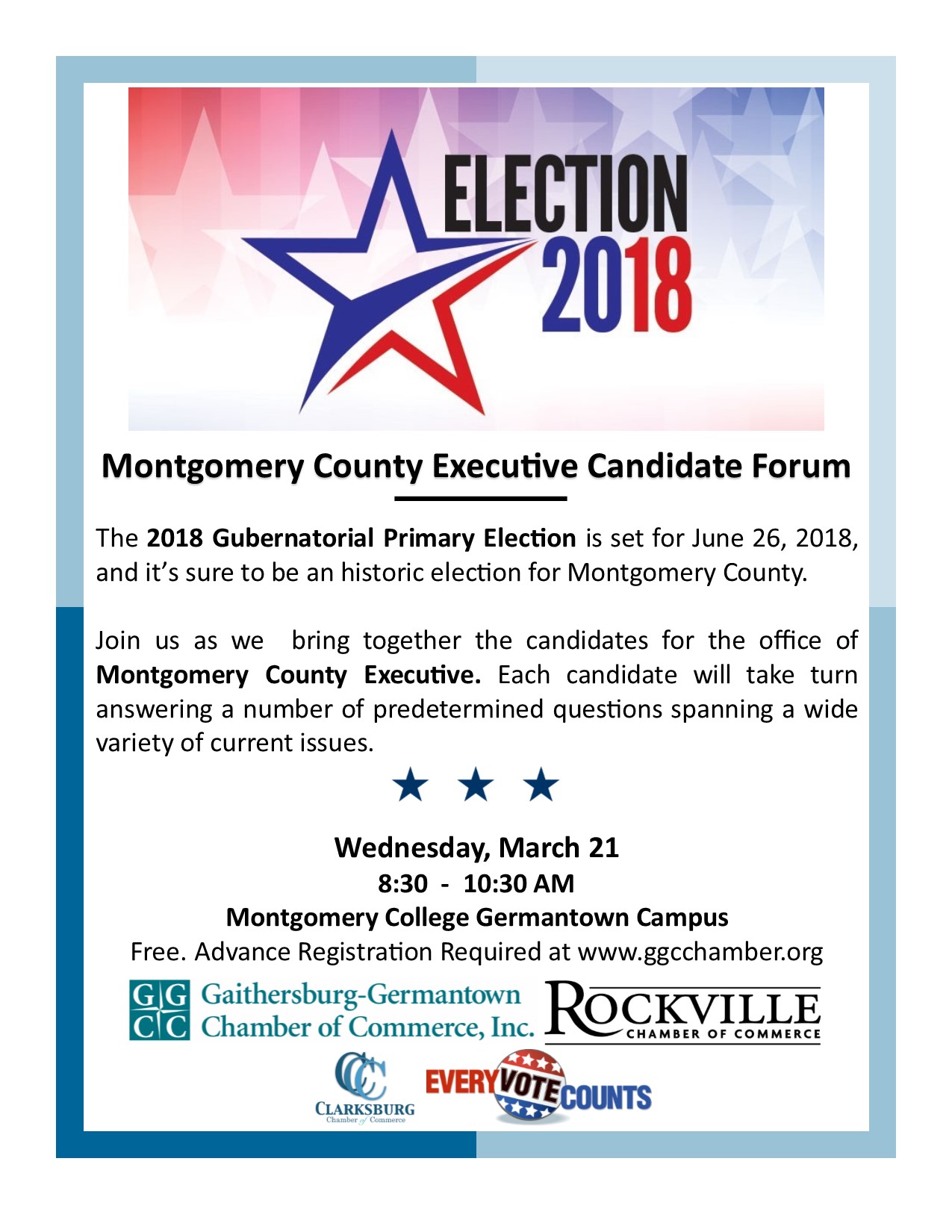 Chamber of Commerce Debate Set for Candidates for County Executive Race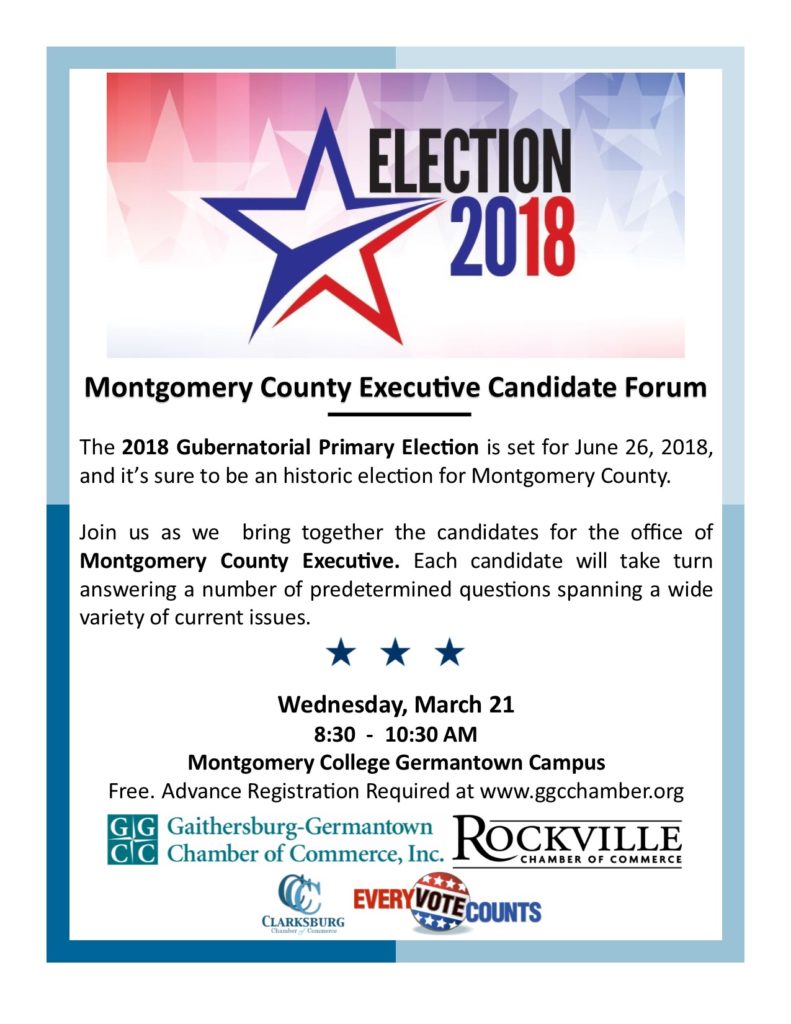 The Maryland County Executive elections of 2018 will take place on November 6, with the primary election occurring on June 26.  The 2018 Gubernatorial Primary Election is set for June 26 and it's sure to be a historic election for Montgomery County.
When voters go to the polls, they will elect a governor, a state legislature, a county executive, a County Council, members of the school board and the House of Representatives.
The Gaithersburg-Germantown Chamber of Commerce, along with the Rockvilleand Clarksburg Chambers of Commerce, will host a primary candidate forum bringing together the candidates for the office of Montgomery County Executive. The debate will focus on economic, development and transportation issues.
"Every election is important, but the 2018 election is landmark. We will be electing our next County Executive and at least four new County Councilmembers.  It is important for everyone to learn more about all the candidates prior to the election," said Marilyn Balcombe, Gaithersburg-Germantown Chamber of Commerce President and CEO.
Currently there are seven candidates vying for County Executive. The candidate slate includes:
Democratic
Roger Berliner
David Blair
Marc Elrich
William Frick
Rose Krasnow
George L. Leventhal
Republican
Robin Ficker (running unopposed)
Berliner, Elrich, Leventhal, Krasnow, Blair and Flicker are confirmed to participate. Delegate Bill Frick will be in Annapolis and unable to attend.
We invite you to listen to the candidates take turns answering a number of predetermined questions spanning a wide variety of current issues at the Chamber of Commerce Forum on March 21 at 8:30 AM at Montgomery College, BioScience Education Center, 20200 Observation Drive, Germantown.
The forum is free of charge. A light continental breakfast will be served. Advance registration is required at https://goo.gl/kPk1R6.
For election coverage please visit – www.ggchamber.org/advocacy/election-2018/.
The GGCC is active in providing business-to-business networking opportunities throughout the year: a collective voice in local, regional, and state legislative affairs, professional development opportunities and other services that enhance the business environment.
The GGCC is located at 910 Clopper Road, Suite 205N, Gaithersburg, MD. To learn more about the GGCC visit us at www.ggchamber.org.
Find us on Facebook at: http://www.facebook.com/pages/Gaithersburg-Germantown-Chamber-of-Commerce/64339954570. Or on Twitter at: @GGCCNEWS.