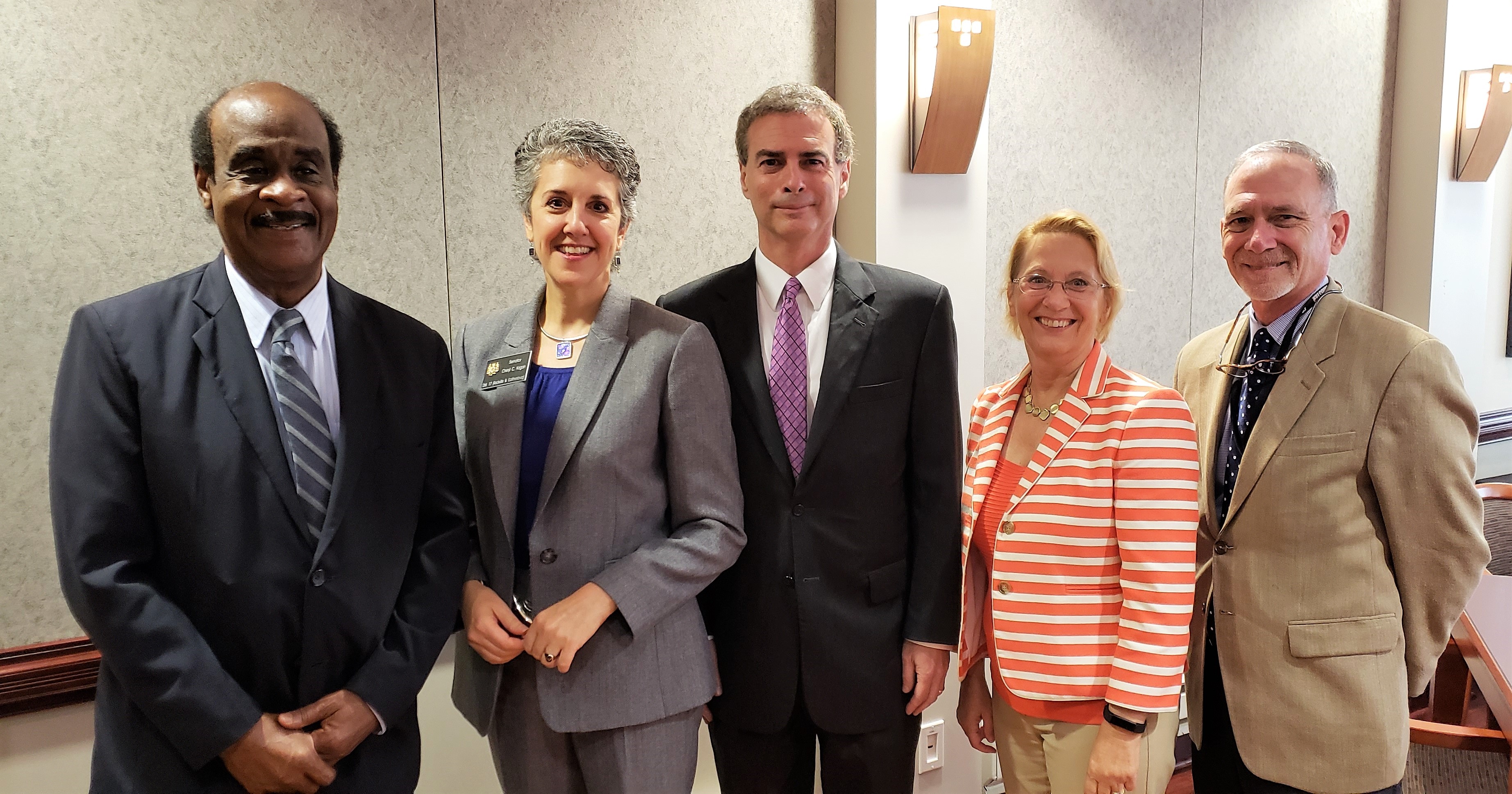 Chamber Holds 13th Annual Upcounty Business Breakfast Briefing
Thirteen years ago, the Gaithersburg-Germantown Chamber of Commerce (GGCC) established the Upcounty Business Breakfast Briefing (UCBBB) which affords Chamber members and Upcounty Business Leaders an opportunity to discuss legislative issues with their elected officials.
On Tuesday, October 2 the GGCC was honored to have Montgomery County Executive Isiah "Ike" Leggett; and State Senators Cheryl Kagan, District 17; and Brian Feldman, District 15, as their guest speakers at its 13th Annual UCBBB.
"It's so important for businesses to work closely with our legislators. We are fortunate to have a great relationship with our County Executive and our State Senators," said Marilyn Balcombe, GGCC President/CEO
The event was sponsored and hosted by Hughes Network Systems, LLC – An EchoStar Company and held at their location in Germantown.
Transportation, the election, and healthcare were the forefront of conversations held.
Montgomery County Executive Isiah "Ike" Leggett delivered his final thoughts after 12 years of leading Montgomery County. Leggett said that we can either "go big or go home" and he chooses to "go big". He noted that this County is diversified with people from all over the world and we're growing. During his remarks he reconfirmed the County's commitment to education and the goal to provide students with the educational means for success. He noted transportation continues to be a critical issue in this County – especially along the I-270 Corridor. He added that the County will continue its efforts and work with the State and the Federal Government to increase capacity on Interstate 270.
State Senator's Cheryl Kagan and Brian Feldman comments were echoed with regards to the upcoming election and the importance of voting. Feldman said "we are the largest County in the State and we are the worst at voting, because we don't show up". Both Feldman and Kagan encouraged attendees to vote on November 6 or early vote Thursday, October 25 through Thursday, November 1. Kagan reminded attendees to ensure they are registered to vote and encourage others to vote.
Montgomery County Board of Elections will conduct voter registration and election worker recruitment drives October 1 through October 16 at local public libraries. Upcounty drives include: Wednesday, October 3 (5-8 PM) at Damascus, 9701 Main Street, Damascus; Saturday, October 6 (10 AM – 1 PM.) at Quince Orchard, 15831 Quince Orchard Road, Gaithersburg; Sunday, October 7 (1-4 PM.) at Gaithersburg, 18330 Montgomery Village Avenue, Gaithersburg; and Saturday, October 13 (10 AM -1 PM) at Germantown, 19840 Century Boulevard, Germantown, MD  20874.
The GGCC is active in providing business-to-business networking opportunities throughout the year: a collective voice in local, regional, and state legislative affairs, professional development opportunities and other services that enhance the business environment. Learn more about the GGCC's Legislative Initiatives or view our 2018 Legislative Agenda at: www.ggchamber.org/advocacy/legislative-agenda/.