Chamber Networking Event to Raise Awareness for Food Insecurity in County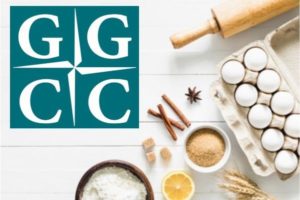 Five thousand Montgomery County Public School students have experienced -over the past seven years- King Arthur Flour's "Bake for Good" program at Johns Hopkins University Montgomery County Campus (JHU). The kids program affords them the opportunity to share what it feels like to bake and give to those in need.
King Arthur Flour (KAF) wanted to take it up a notch this year and take on an entire city for a month. The concept is simple, pledge to share a homemade baked good with a loved one or someone in your community, all while addressing issues of food insecurity. We were delighted to receive the call from KAF asking us how the Gaithersburg-Germantown Chamber of Commerce (GGCC) could be involved.
March is Hunger Awareness Month in Gaithersburg, Maryland. And at the GGCC, we are going to kick off the month with a friendly and tasty competition, combined with networking.
On February 26 GGCC Members and guests will gather at JK Moving Services to connect over coffee and more. This Business Networking Before Nine is two-fold, it's networking for work and networking for good.
The GGCC and KAF are hosting a baking contest. We are looking for your best and most delicious muffin! Be sure and make them from scratch – no mixes or prepared frostings allowed. Creativity is strongly encouraged so get baking with KAF and you could be the blue-ribbon winner!
As of Friday, February 22, 2019, the Chamber has 23 contestants vying for prizes – including a $100 KAF gift card- compliments of King Arthur Flour; and over seventy attendees.
We're so excited about our judges for the bake-off. The baked goods will be judged by City of Gaithersburg Mayor Jud Ashman, JK Moving & Storage General Manager Tom Grass, and former NFL tight end and Montgomery County Police 5th District – Germantown Officer Andre Smith.
The baked goods will be divvied up, three for the judges, three for the guests, and six for good. The donated baked goods will be delivered by Chamber staff and board members to local fire and police stations in Montgomery County. Our way of saying "thank you" to those who protect us and our businesses daily; giving back to our community.
Not a baker, no problem. Please feel free to attend this morning mixer, because after all it is a networking event and there will be plenty of networking opportunities. We ask if you are not participating in the bake-off, that you please bring can(s) of non-perishable food or a monetary donation to Manna Food Center. All canned goods are being collected by Bargain Movers.
"40 million Americans struggle with hunger, the same as the number of people officially living in poverty", according to Feeding America. In Montgomery County, Maryland, Food insecurity is real. Manna reports that approximately "79,000 to 81,000 of Montgomery County residents do not know where their next meal will come from". An issue like food security is complex because it is both a symptom and a root cause. We hope to shed a light on the challenges facing many in our county, and the need to keep nutrition programs strong, so they can provide for the needs of many.
There are several businesses that are instrumental in making this event come to fruition and are passionate about striving to end hunger poverty.
JK Moving Services:  JK is the event sponsor. They encourage their employees to participate in company sponsored programs focused on fitness, nutrition, and overall well-being. They are committed to growth, noting in order to "grow, they must develop new skills, hone their talents, take some risks, and encourage new ideas".
Gaithersburg-Germantown Chamber of Commerce: The Chamber "serves, represents and is the leading advocate for the interests of its membership in ways that enhance the business environment, quality of life, and well-being of its unique communities".
King Arthur Flour: KAF believes in the "power of baking to make a difference". By joining forces with KAF, your baking makes a difference. After all, "baked goods and doing good go hand in hand".
Bargain Movers: They have partnered with Move for Hunger for their upcoming food drives to support the Zero Hunger and Zero Waste initiative. More than 42 million Americans are considered food insecure. All the donations from this event – and collected throughout the month of February at local Gaithersburg businesses – will be donated to Manna Food Center
Manna Food Center: Manna strives to eliminate hunger in Montgomery County through food distribution, education and advocacy.
#ShowTheLove this February and towards these organizations so we can support our community and bring light to food insecurity in Montgomery County, Maryland. Register today as a baker or a non-baker. If baking, please stop by the Chamber office to pick up your flour.
Morning Mixer: Networking & Baking Contest!
When: Tuesday, February 26, 2019
Time: 7:30 AM thru 09:00 AM
Where: JK Moving Services, 7501 Lindbergh Drive, Gaithersburg
Register | Details: https://bit.ly/2TXvGra
Pick-up Flour: GGCC, 910 Clopper Road, Suite 205N, North Building, Gaithersburg