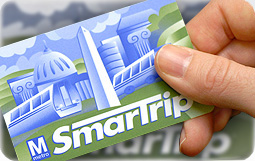 Changes to SmarTrip Cards
Ride On passengers will be able to load monthly passes onto their SmarTrip® cards, beginning with December's pass. The $45 monthly pass provides customers unlimited rides on Montgomery County Ride On buses for an entire calendar month. Paper passes are being phased out and will no longer be available after January 31, 2013. Passengers will continue to have the option of paying fares with cash.
Monthly passes can be loaded onto SmarTrip® cards either in person or online. When adding value online, customers have the option of purchasing monthly passes automatically. The automatic monthly pass value is then added to a purchaser's card seven days before the end of every month.
Customers who prefer to add the monthly pass value to a SmarTrip® card in person, may do so at the following locations:
• TRiPS Commuter Store: 8413 Ramsey Avenue, Silver Spring (Monday through Friday, 7 a.m. to 5 p.m.)
• TRiPS Commuter Store: 17 Wisconsin Circle, Friendship Heights (Monday through Friday, 10 a.m. to 6 p.m.)
• Montgomery County Division of Treasury: 255 Rockville Pike, L-15, Rockville, (Monday through Friday, 8 a.m. to 4 p.m.)
• Retailers including some Giant Food and CVS Pharmacy stores in Montgomery County. A full list of participating retail outlets is available online.
Passes for two consecutive months may be loaded onto a SmarTrip® card at one time. Customers should be aware that, once purchased, the two-month period for which the pass is active cannot be changed.
Ride On passengers with monthly passes who use the express Route #70 will be charged an additional $2.05 for each trip, which will automatically be deducted from their SmarTrip® card upon boarding the bus.
A monthly pass purchased the 1st through the 15th of any month is active for the month in which it was purchased. If the pass is purchased the 16th through the end of the month, the pass will be valid for the following month.
SmarTrip® card users are encouraged to register their SmarTrip® card online, so that the stored value won't be lost if the card is misplaced. Customers can manage SmarTrip® information online, including viewing their card balance and usage history, adding multiple cards to their account, reporting a lost card, requesting a replacement card or transferring the balance to another registered card.
The Ride On monthly pass represents a 43 percent savings over paying cash fares on regular Ride On routes. Information about the SmarTrip® card is available online. Ride On information is available on the County's website or by calling 311, Monday through Friday from 7 a.m. to 7 p.m., 301-251-4850 TTY, or 240-777-0311 (from outside the County).