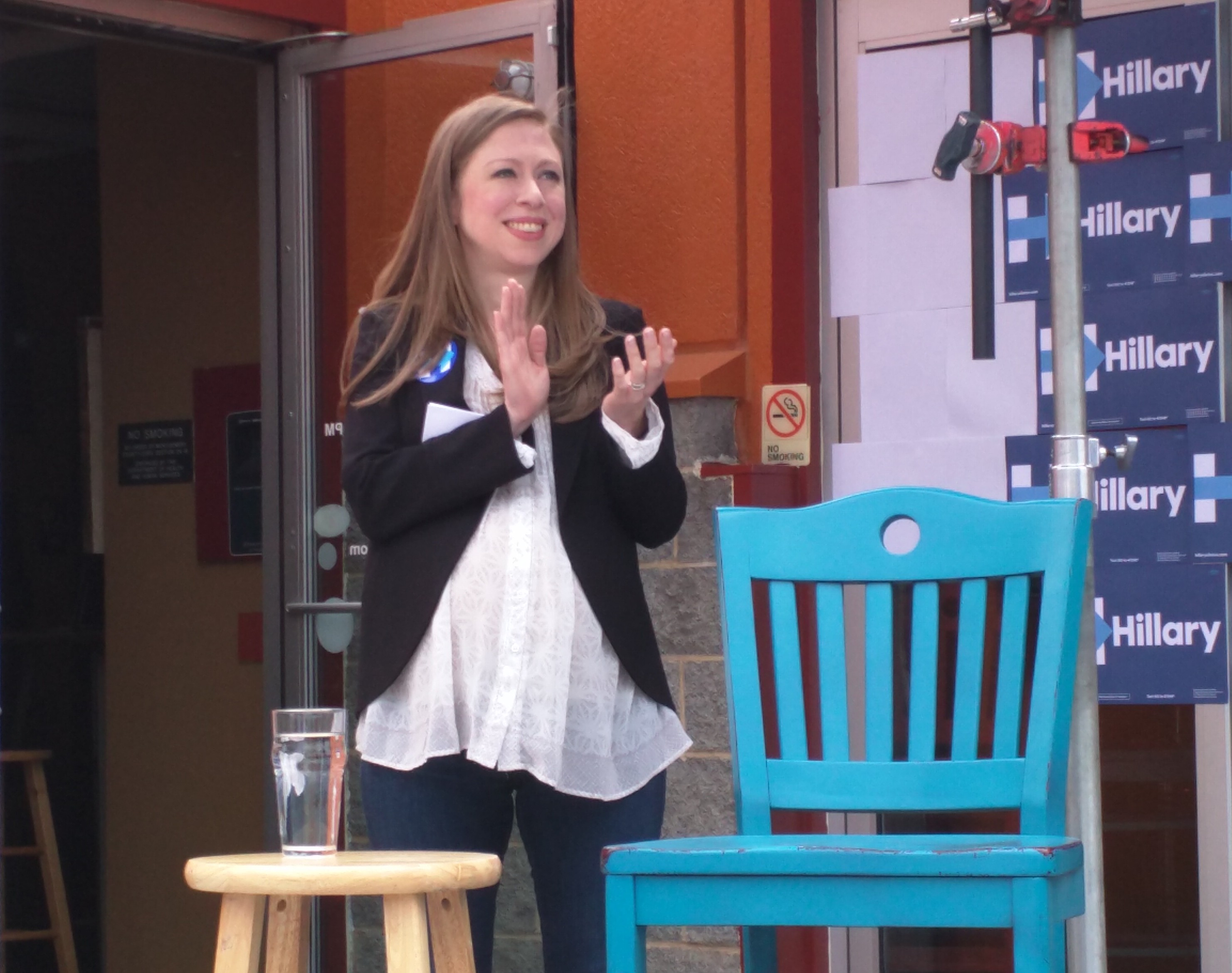 Chelsea Clinton Campaigns for Hillary Clinton in Silver Spring (PHOTOS & VIDEOS)
Before a crowd of over 100 people, Chelsea Clinton, daughter of former President Bill Clinton and Democratic presidential candidate Hillary Clinton, encouraged Maryland voters to support her mother for the 2016 Presidential Primary. The campaign event took place in downtown Silver Spring at Denizens Brewing Company on Thursday.
Although Clinton could not enjoy any beverages offered at the local brewery (Clinton is expecting her second child), organizers say the Hillary Clinton campaign chose the site because of its commitment to diversity. Julie Verratti is one of the co-owners of Denizens Brewing Company and has been a staunch supporter of Hillary Clinton since 2008.
"I think our company's story aligns with the values of what Hillary stands for. We are women owned, we are LGBT owned, we're minority owned," Verratti said. "We're a small family business that started from the ground up and built this community establishment….I think businesses like ours are something that Hillary Clinton is going to advance and support and this was the perfect venue for them to do that."
Thursday was the last day to vote early in Maryland and Clinton encouraged the crowd to get out and cast their ballots on April 26. During her remarks, she touched on a variety of issues including health care, the Supreme Court nomination and gun control. Clinton also took time to share why this election matters to her the most.
"This election feels so personal to me because I'm now a mom, so even more than just my mom running, it's me being a mom that just underscored to me how important this election is," Clinton said. "I know whomever we elect will play a profound role in shaping the country, the world and the future that my children and their generation will grow up in."
Nancy Marucci says Hillary Clinton is her pick for president because of her previous work as senator for New York and as the secretary of state.
"I think she has the most experience [and] I think she's been battle tested and a lot of things that people think are her negatives, I don't care about," Marucci said.
.@ChelseaClinton says this election is even more important to her now that she's a mother. @mymcmedia pic.twitter.com/sz8g1ygixk

— Willie James Inman (@imwilljames) April 21, 2016
.@ChelseaClinton touches on #SCOTUS nomination saying the next president could choose up to 3 justices. @mymcmedia pic.twitter.com/ABRCxfOT5H

— Willie James Inman (@imwilljames) April 21, 2016
.@ChelseaClinton says discrimination is still a major issue across the country. @mymcmedia pic.twitter.com/nGkeD7cfTL

— Willie James Inman (@imwilljames) April 21, 2016
.@ChelseaClinton greets voters in #SilverSpring @mymcmedia pic.twitter.com/uUX77aGeGt

— Willie James Inman (@imwilljames) April 21, 2016