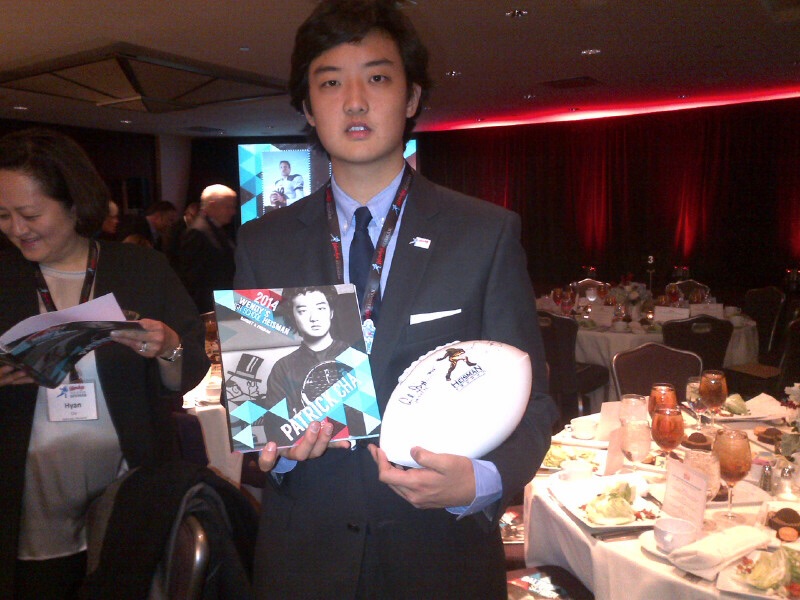 Chevy Chase Tennis Teen Earns National Distinction (VIDEO)
Patrick Cha of Chevy Chase played football, basketball and baseball in middle school, but never tennis. But, a brain bleed when he was 12 left him with a loss of his peripheral vision and unable to play contact sports. So Cha, found his way to tennis and never looked back.
This weekend, Cha was honored by the Wendy's High School Heisman Program, an official partner of the Heisman Memorial Trophy, as a national finalist  recognized for his athletic accomplishments and dedication to his community. LaurenVan Vlierbergen of Illinois and Nolan Henry of Washington were selected as the national winners out of  the 12 national finalists – six senior males and six senior females – representing the six geographic Heisman Trophy regions.
Cha didn't just take up tennis and to help restore confidence in himself and continue his love of competition, he turned this life-altering event into a way to help others through their adversity. Cha started the nonprofit, NetBenefitUSA, which is devoted to socially responsible high school sports. His first cause was helping victims of the Boston Marathon bombing and donations streamed in from as far as Tokyo and Istanbul. Cha was formally recognized for his work by  Congress for his work, but his most meaningful recognition came in the form of a simple painting, "Boston Strong," given to him by one of the survivors. He says his group donated about $8,000. He has also donated to My Sister's Place, an anti-domestic violence organization and victims of  Typhoon Haiyan. Cha works around his loss of vision which he said has been slowly reginarating. He said it mostly affects his tennis game when it comes to his backhand deep and high.
"That where it is is hard because I can't see the tennis ball clearly. I have to trust instinct," he said.
His adaptability has worked. He's ranked 16th in Maryland by the U.S. Tennis Association for his age group.
He applied for the Heisman program on the advice of his counselor at Bethesda Chevy-Chase High School and learned he was a national winner during a school assembly. This weekend he got the chance to hang out with the other national winners in New York.
"It was such a blessing and honor to meet so many amazing people," he said. "I didn't see myself as someone overcoming adversity. When it happened I thought it was a part of life and I have to deal with. It motivated me and inspired me but it was just an obstacle to face."
You can watch the Cha'sWendy's High School Heisman video highlights here.