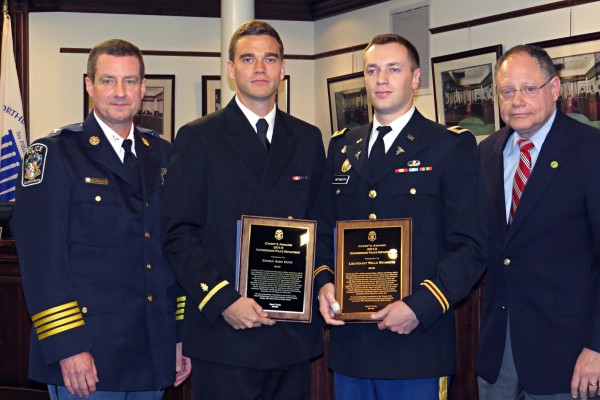 Chief's Award Goes to Sam's Club Ax Heroes (Photo)
Gaithersburg Police Chief Mark Sroka presented the Chief's Award to Ensign John Hunt, United States Navy and Lieutenant Wells Weymouth, United States Army for their outstanding commitment-to-duty, professionalism, and contributions to the citizens of the City of Gaithersburg. The awards were presented at the Oct. 7 Mayor and City Council meeting.
On July 23, at approximately 1 p.m., a personal injury collision was reported at the Sam's Club located at 610 North Frederick Avenue.  A car had crashed through a set of utility doors to the right of the store's main entrance.  Behind those doors is the Sam's Club food court.  As a result of the collision, one victim was struck in the parking lot and two additional victims were struck inside the food court.  Of those struck, a 76-year-old male who was in the food court was the most severely injured.  The victim's leg was severed below the knee.  At the time, Lieutenant Weymouth and Ensign Hunt were inside the Sam's Club shopping.  They observed the collision and immediately came to the assistance of the injured male.  They quickly fashioned a makeshift tourniquet to control the bleeding and calmed the victim until the arrival of medical personnel.
Montgomery County Fire and Rescue officials credited both Lieutenant Weymouth and Ensign Hunt's actions in administering immediate first aid for saving the elderly man's life.
For their life saving actions, Ensign Hunt and Lieutenant Weymouth were presented with the Chief's Award.
The Chief's Award was created in the fall of 2010 to be awarded to any member of the Police Department, a citizen or a City employee for outstanding work that has brought credit to the Department and where the recipient has gone above and beyond the requirements of his or her normal assignment to contribute to a more effective and efficient police service.