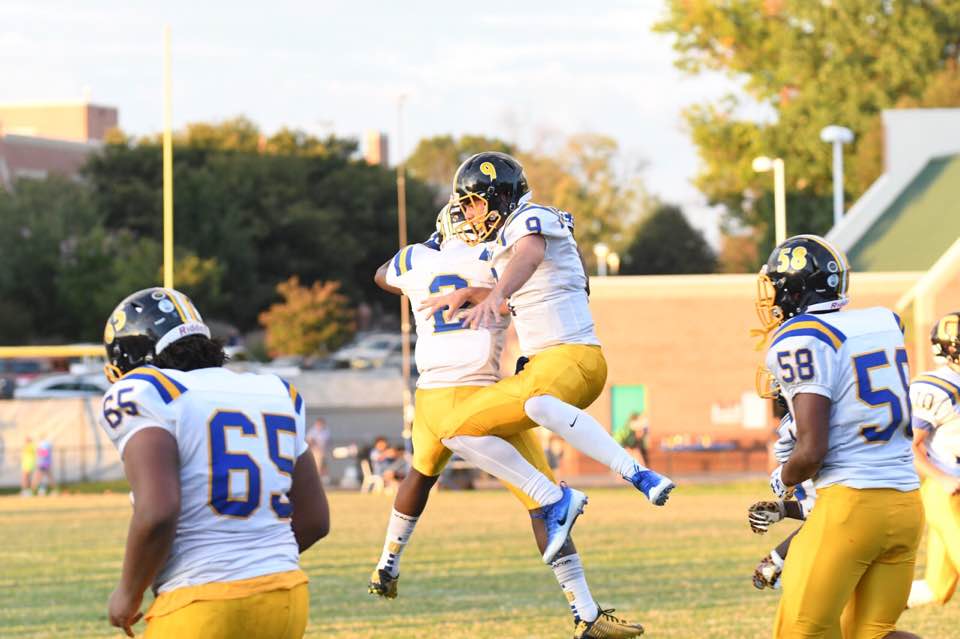 Churchill Bulldogs Over Gaithersburg Trojans, 42-13 (PHOTOS)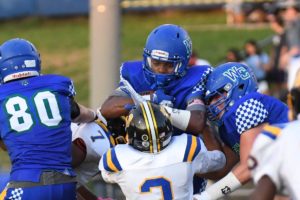 Friday night high school football saw the Gaithersburg Trojans take on the Churchill Bulldogs in Potomac at the Shepherd Stadium. Churchill put numbers on the board first with a touchdown. Gaithersburg scored with a sneak into the end zone to tie the game at 7-7.  Richardson ran the ball in for the Bulldogs to make it 14-7 in the second quarter. At halftime Churchill led by 7.
Late in the third quarter, Churchill scored on a 19-yard pass from Janis to Welch which brought the score to 21-7. Next, Gaithersburg scored with a 80-yard touchdown pass to Frazier, but were unable to make the extra point. At the end of the third quarter it was 21-13, Churchill.
All the points in the fourth quarter were made by Churchill, including a touchdown by Richardson, a 11-yard run into the end zone by Lewis, and a touchdown on a pass from Janis to Smyth.
The final score was 42-13, Churchill.
Next up for Churchill is Whitman in Bethesda while Gaithesrburg takes on Northwest at home.
PHOTOS | Phil Fabrizio
Final. Churchill 42 Gaithersburg 13 @mymcmedia @WashPostHS pic.twitter.com/g5D5b0IICA

— Phil Fabrizio (@Photoloaf) September 16, 2017
Bulldogs Smyth shakes off Trojan #20 and scores on a pass from Janis @DawgsSports 42-13 with 1:15 left @mymcmedia pic.twitter.com/fSCfVID0Gf

— Phil Fabrizio (@Photoloaf) September 16, 2017
Lewis up the middle 11 yds to make it 35-13 Churchill over Gburg @DawgsSports @mymcmedia pic.twitter.com/xzpmUSGuBn

— Phil Fabrizio (@Photoloaf) September 16, 2017
FUMBLE! Gburg drops ball at their 15 Bulldog's Richardson picks it up and walks in 28-13 @DawgsSports @mymcmedia @WashPostHS pic.twitter.com/X6gIf0l9Rr

— Phil Fabrizio (@Photoloaf) September 16, 2017
Gaithersburg strikes back with 80 yd TD pass to Frazier XP fails 21-13 Churchill @Gburgathletics @mymcmedia 3rd Qtr ends. pic.twitter.com/kvy7d3QNcH

— Phil Fabrizio (@Photoloaf) September 16, 2017
19 yd pass from Janis to Welch makes it 21-7 Churchill over Gburg late in the 3rd Qtr @DawgsSports @mymcmedia pic.twitter.com/srjwzaGh4Q

— Phil Fabrizio (@Photoloaf) September 16, 2017
It's halftime in Potomac Churchill leads 14-7 over Gaithersburg @mymcmedia @DawgsSports @Gburgathletics pic.twitter.com/GPWsfptcxH

— Phil Fabrizio (@Photoloaf) September 15, 2017
In Early 1st half action it was Richardson for Churchill @DawgsSports scoring to make it 14-7 in the 2nd QTr over Gburg @mymcmedia pic.twitter.com/7QiXMLqYI7

— Phil Fabrizio (@Photoloaf) September 15, 2017
Tyler Woodward Gburg QB celebrates after a sneak to tie the game at 7 @Gburgathletics @mymcmedia pic.twitter.com/4nBbTRMZgV

— Phil Fabrizio (@Photoloaf) September 15, 2017