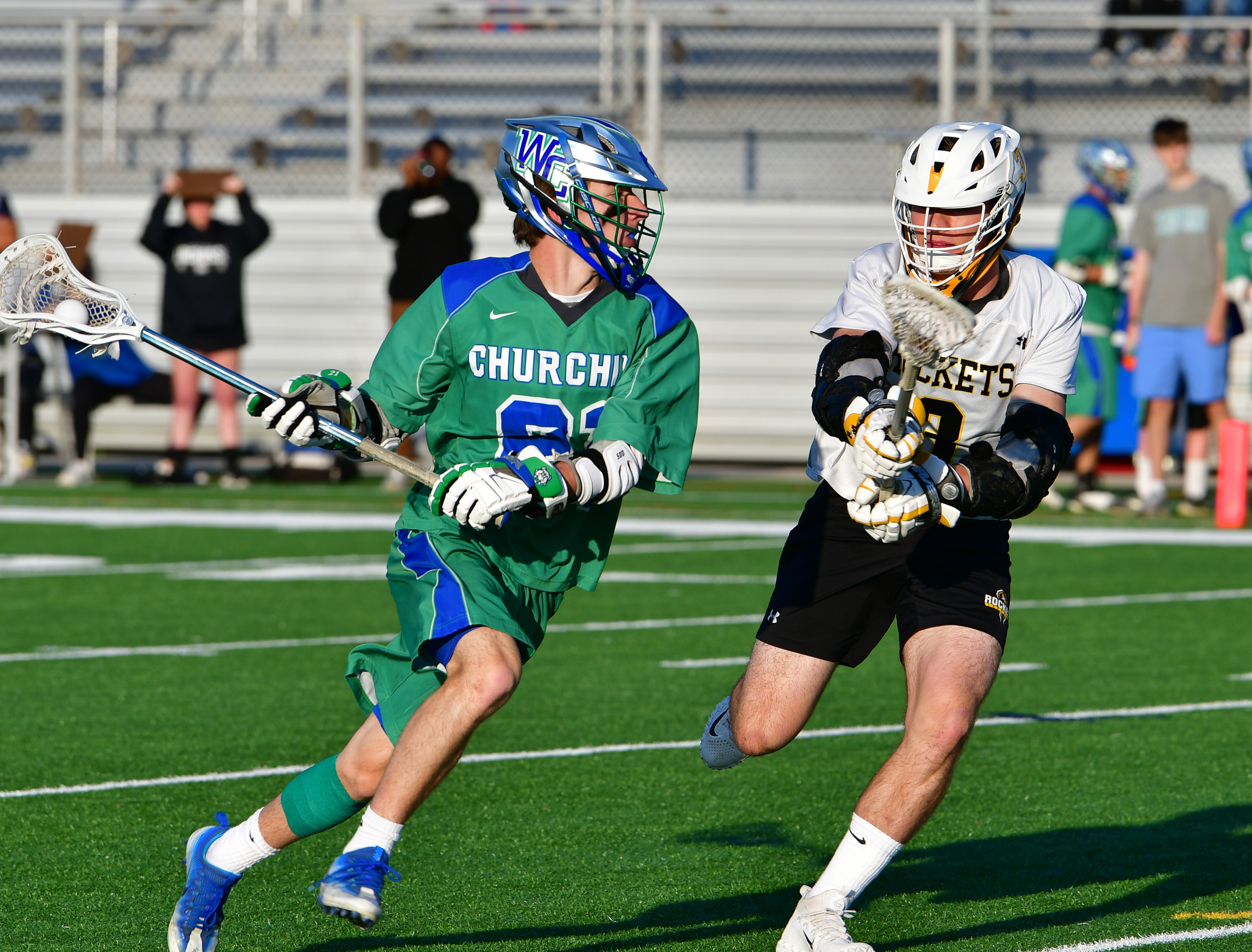 Churchill Wins 4A LAX Regional Championship 6-5 in OT
Rockville, Maryland Richard Montgomery High School May 15th 2019
The MPSSAA 4A West regional Championship was on the line and the game between host Richard Montgomery Rockets and Churchill Bulldogs did not disappoint lacrosse fans.  The Rockets led off scoring three unanswered goals early with the Bulldogs answering with their first goal midway through the second quarter.  As the half was coming to a close the Rockets scored making it 4-1 and seeming to be in control.  The face-off won by Churchill was taken down the field as freshman #18 John Pogorelc drove to the cage his shot and goal with 13 seconds remaining in the half signaled a clear momentum shift to the Bulldogs.  That was the spark that ignites a team.  That was a shot that cut the lead in half and exactly what Churchill needed to carry them into the second half.
Moving into the second half Coach Jeff Fritz and his staff surely saw the momentum shift and keeping a young team focused with momentum was certainly the halftime point of emphasis.  Concentrate on the positive adjust the areas of concern, like clears, and heighten their tenacious play to keep the Rockets on their heels.
The third quarter for Churchill saw them ride the momentum to tie the score at 4 all.  The Bulldogs had scored three unanswered goals and held the Rockets scoreless behind strong defense and saves by #25 Andrew Robinson.  The Rockets took the lead with 9:03 remaining in the fourth quarter making the score 5-4.  Then with 1:45 remaining in the game Churchill attackman #10 Ryan Shure tied the game taking the Regional Championship to overtime tied at 5 all.
Overtime games are sudden victory, first goal wins the Regional Championship.  The key in overtime is winning the face-off controlling the possession and executing a play that gives you the first best shot.  The Churchill Bulldogs did all of that to perfection and 43 seconds into that first and only possession a play is executed and #21 Jack Abel blast a shot to the back of the net, GAME OVER.  The bench clears as the Bulldogs swam the field, dejected Rockets laying spent all over the field. What a GAME!!
Congratulations to Churchill High School Boys Lacrosse, Coach Jeff Fritz and his staff as the Bulldogs play in the 4A MPSSAA Semifinal game this Saturday at noon at Gaithersburg High School.
Pictures to follow by Daryl Schultz