Green Screen Summer Camp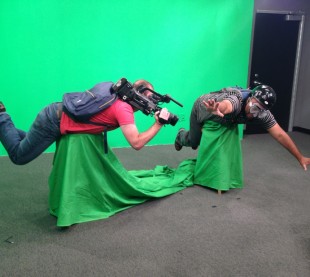 Next Start Date: 07/16/2018Prerequisites: NoneLength: 1 Week, Monday - Friday, 8:30 AM to 4 PMFee: $300Instructor: Michael Bailey
---
Why sit around watching cool stuff on TV, when you can come to MCM and create TV! Learn the latest green screen technology while creating a tv show!
Students will produce programs in MCM's state of the art green screen tv studio, gaining hands-on training behind the scenes and in front of the camera.  Students rotate between all of the fun studio positions for an interactive and exciting learning experience. This class is open to students, ages 11-16.
Upon completion of this camp, students will be certified as an MCM Studio Technician. Participants can also receive SSL hours and are also encouraged to volunteer on productions at MCM.
ALL STUDENT PROJECTS WILL BE FEATURED AT MCM's MULTIMEDIA FESTIVAL IN AUGUST!
Session 1: June 25th – June 29th
Session 2: July 16th – July 20th
Location:  Montgomery Community Media
7548 Standish Place
Rockville MD 20855