Shooting a Short Film on Your Phone, Tablet or DSLR (Ages 18 +)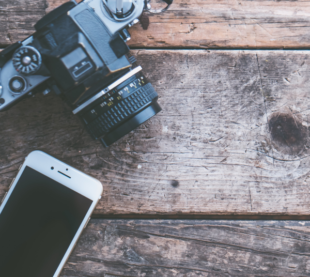 Next Start Date: 11/10/2020Prerequisites: Basic understanding of video recording with your camera (mobile device or DSLR camera). Students must have their own camera and access to video editing software.Length: 4 Days (Tuesdays) 6 PM - 8 PMFee: $150 Non-MembersInstructor:
Location: Online via Zoom
Dates:November 10th – December 1st
You figured out how to use your camera! Now what? Learn the next steps of putting those skills to use by creating a short film. In this class, students will use their own equipment to record and edit a short video project.
This interactive class teaches the basics in creating a film with a smartphone, tablet or DSLR camera. The class will emphasize how to tell story through visual media. Students will choose one device that they already own that they will use throughout the class to complete short film projects during this class. This class will focus on shooting and basic editing using Adobe Premiere Pro (students must have their own license). Participants are encouraged to have this editing programs downloaded by the start of class. This class will focus on moving a project from conception to completion. On the last day of the class, participants will share their short film project with the class.
*Students must be age 18 or older to register
Class Requirements: Basic understanding of video recording with your camera (mobile device or DSLR camera) is required. This class will NOT teach you how to operate your camera. Participants must have reliable internet access and a computer to participate actively in this virtual class. Students will also need access to a computer with Adobe Premiere Pro to edit the project.
Members receive a discount for this class. MCM members please enter your member code to get discount. Want to join? Learn about member benefits & sign-up today!