MCM Teen Filmmaking Volunteer Program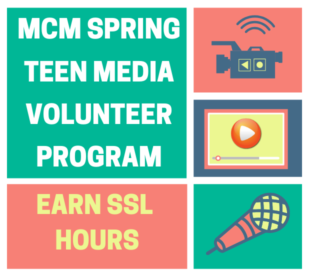 Next Start Date: 03/04/2020Class is full, waiting list only
Prerequisites: MCM Youth Membership FeeLength: March 4th -April 1st (5 sessions), 4 PM - 6 PMFee: Free (must join MCM)Instructor: TBA
Length: Wednesdays, March 4th -April 1st (5 sessions)
Time: 4 PM – 6 PM
Grades: 8th- 11th Grade
Location: MCM Rockville, 7548 Standish Place, Rockville, MD 20855
This spring the MCM teen volunteer program will focus on mobile filmmaking. While earning SSL hours, students will learn the basics for shooting a video on their mobile phone and DSLR camera.
Teens will learn basic camera techniques to include framing a shot, lighting techniques and how to capture great sound for a project. MCM will take teens through the entire process of planning the initial story, filming techniques and tips, as well as a step-by-step editing process using Adobe Premiere CC.
It's recommended that teens have their mobile phones, but it is not a requirement. All equipment will be provided during the program.
No experience necessary. Youth will earn SSL hours for their participation..
Please note: This volunteer opportunity is for MCM youth member. There is a cost of $15.00 for MCM youth annual membership. This fee helps support the maintenance of MCM's equipment and facilities that are free for MCM Rockville members to use.
Frequently Asked Questions:
Who should sign-up?
Teens who have a serious interest in learning filmmaking and videography.
What are the specific dates of the program?
March 4th – April 1st.
Will there be a program after MCPS spring break?
Yes. There will be a new teen volunteer program after spring break that will run through the end of the school year.
Can my teen miss a day?
Each class builds upon itself. Its recommended that students plan to attend all sessions. However, its understandable if students have to miss a class due to personal circumstances.
Is this program approved for earning Montgomery County's Student Service Learning hours?
Yes. At the end of the program, students will receive a Student Service Learning Activity Verification with the number of hours they participated in the program.
Does this program cost anything?
No. This volunteer program is free, however you are required to join MCM as a youth member and pay the annual fee.