2-Day Spring Break Camp: Green Screen Music Video Production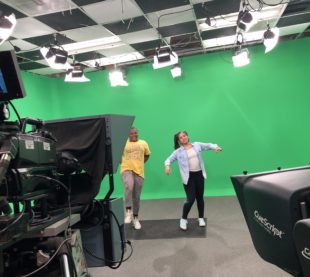 Next Start Date: 04/17/2019Prerequisites: NoneLength: 2-Days: Wednesday, April 17th & Thursday, April 18th, 8:30 AM - 4 PMFee: $199 per studentInstructor: Lorenzo Olson
In this 2-day camp, middle school students will receive hands-on studio and control room training in MCM's green screen studio and create their very own music video!
Activities:
Day 1: TV/music video-related activities, introduction and training on green screen studio production equipment (robotic cameras, audio board, etc.), storyboarding and scripting for music video project, rehearsal shoot
Day 2: Music video production day and editing!
Class Details
Who: Middle School Students (grades 6 – 8)
Location: 7564 Standish Place, Rockville MD
Class size: 10 students