Studio Production Technician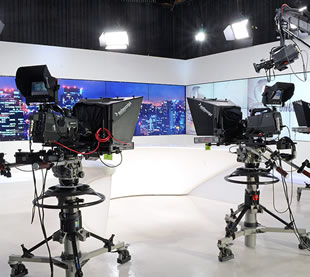 Next Start Date: 01/22/2020Prerequisites: Orientation & MembershipLength: 6 Weeks (Wednesdays) 6:30 - 9 PM, Studio Shoot - (Sched. 1st or 4th Mon)Fee: $175Instructor: TBD
In this 6-week technical class, students will rotate through all Studio and Control Room positions in MCM's large multi-camera studio and in our Green Screen Studio. Participants crew MCM productions as Camera Operators, Technical Directors, Audio Operators, Character Generator Operators, Digital Recorder Operators, Floor Director, and Teleprompter Operators.
Those interested will also have the opportunity to earn an additional certificate in studio lighting, which provides the foundation in understanding basic three point lighting in a studio setting.
No previous television production experience needed, but this is a technical, hands-on training experience, so participants are expected to jump right in and be ready to learn!
Class Details
Location: 7548 Standish Place, Rockville MD
Class size: 12 students
Structure: 5 sessions in Studio A (large, multi-camera studio), 1 sessions in Studio B (green screen with robotic cameras), half-day of studio shoots
Prerequisites: Orientation* & MCM Annual Membership Fee Paid
This class is for ages 18 and over
Successful completion of this course will certify each student as a Studio Production Technician at Montgomery Community Media.
If you are not currently a member of Montgomery Community Media, you will need to join and pay for your annual membership. The ticket price below includes the adult membership fee ($40).
MCM Members in good standing please contact the Education & Community Engagement (ECE) Department for member code to remove membership fee.
Visit our MEMBERSHIP PAGE for more information about joining and membership renewal.
Please note: it may take up to 72 hours to process your membership renewal and give you the member discount code for future use.