The Vocal Power Workshop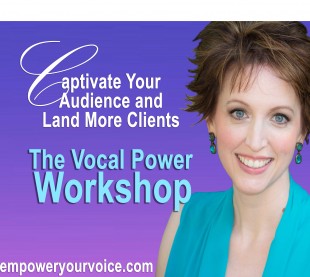 Next Start Date: 03/16/2016Prerequisites: None- Only 15 seats available for this classLength: One Session- 9:00 a.m. - 12:00 p.m.Fee: General $299-- Chamber $249Instructor: Stephanie Bonte Lebair
Stephanie is a lifelong performer and lover of all things on the stage! A singer , speaker, director, actor, and entrepreneur. She has studied and performed in places such as Italy, New York City, and the D.C. region on both professional and nonprofessional stages. She holds a Masters in Vocal Performance and a Minor in Speech Pathology. Stephanie has been coaching singers, actors, and speakers for over 15 years to improve their voices and connect with their audiences. She loves to speak to groups of all sizes about how they can leverage the use of their voice to build their business and fulfill their dreams.
This workshop is for you if:
You use your voice Frequently to speak with prospects and clients either in groups or one-on-one.
You get nervous before presentations.
You are passionate about what you do but cant communicate it effectively others.
You desire to speak easily, confidently, and authentically and to be engaging in your presentations.
In this hands-on workshop, you will learn:
How to deliver an Introduction that Sells.
Techniques to grab your audience's attention.
3 easy vocal warm-ups that will improve the sound of your voice
Basics of a preparation routine that helps you knock it out of the park every time.
Key components of a Speech that Sells.
How to be more authentic and influential during a presentation.
Invaluable practice using your voice and receiving immediate feedback.
Location:
Montgomery Community Media
7548 Standish Pl
Rockville MD 20855
240-630-0614
Contact MCM for more information: