Virtual: MCM Orientation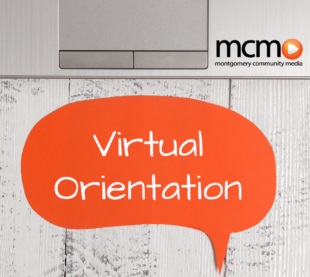 Next Start Date: 02/23/2021Prerequisites: NoneLength: 1 session; 6:00 PM - 7:30 PMFee: $10 (Free for New Members paid special membership fee rate)Instructor: Marsha Kerman
Location: Online
In this interactive online orientation, you will meet MCM staff and get an overview of MCM member services. This short introduction class is your first step in creating and sharing content with MCM, learning about classes & our equipment/facilities, as well as discover networking & volunteer opportunities. Whether you want to create a podcast or produce a show, this is where you begin. The orientation is an overview of MCM's services, important organization policies, and opportunities for community members and prospective volunteers. You'll learn all the exciting ways you can get connected and share your vision and talents with the Montgomery County community.

Orientation is mandatory for certain classes, program submission and volunteering with MCM.
You must be a Montgomery County resident or represent an organization in Montgomery County to produce content using MCM Facilities and equipment. You do not have to be a Montgomery County resident to take MCM classes and volunteer.
NEW MEMBERS WHO JOINED IN 2020 USE YOUR MEMBER CODE TO ONLY PAY FOR ORIENTATION.