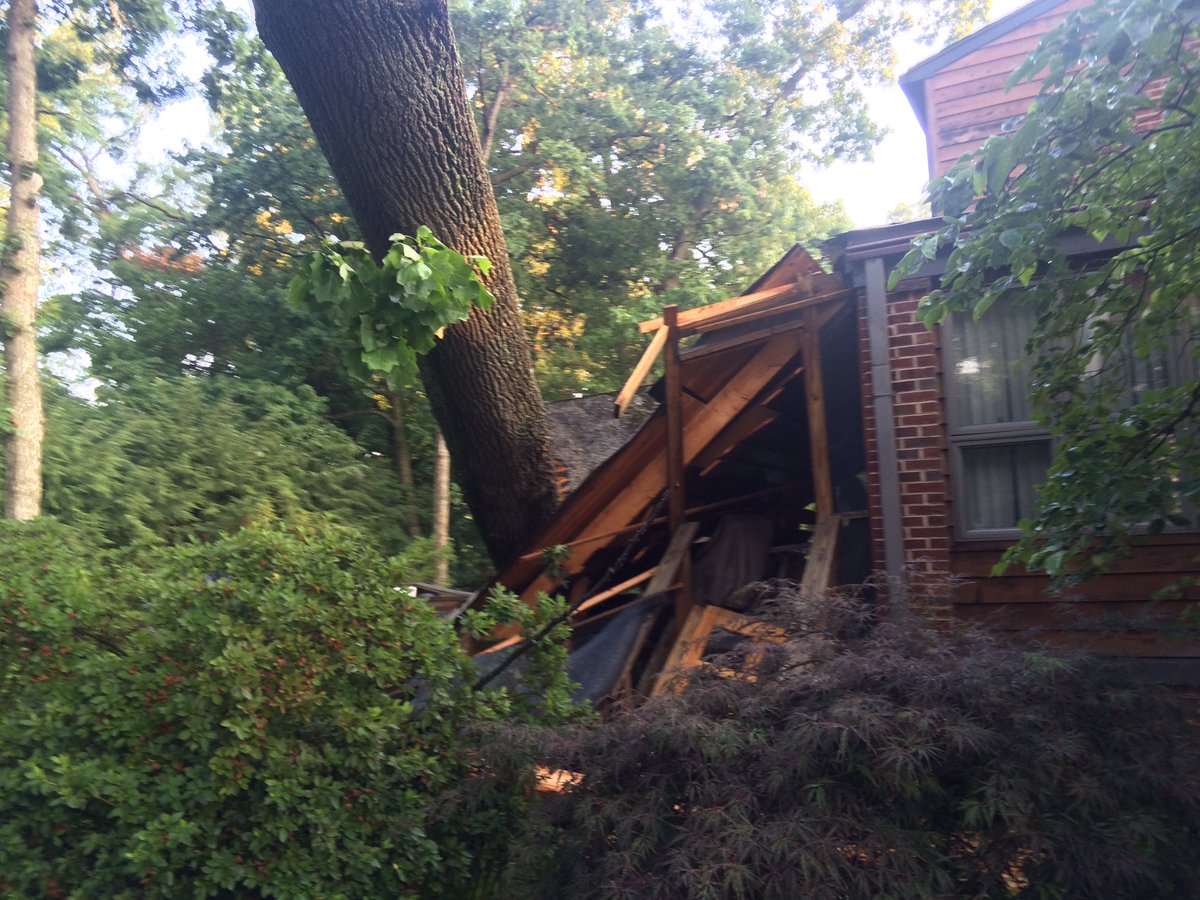 Clean Up Follows Stormy Night in Montgomery County (PHOTOS)
The cleanup continues today after severe thunderstorms rolled across Montgomery County last night downing trees and power lines and leaving hundreds of Pepco customers without power.
Montgomery County fire spokesperson Pete Piringer said at least five homes were struck by lightning.
According to Piringer, Pierce Drive in Silver Spring was one of the hardest hit areas of the county. He said several homes were damaged by falling trees and lightning strikes. At the height of the storm last night, he said, dispatchers were handling about a call a minute.
As of this morning, over 550 Pepco customers remained without power in Montgomery County.
Piringer posted photos of the storm damage on his Twitter account, see below:
Last nite ICYMI at least 5 homes struck by lightning, numerous reports of wires down, at least 5 homes hit by falling trees/large branches

— Pete Piringer (@mcfrsPIO) July 20, 2016
More…2 other Pierce Rd homes (10304/6) damaged when 1 tree came down, some power out in area pic.twitter.com/PiU2naCzm6

— Pete Piringer (@mcfrsPIO) July 20, 2016
10300blk Pierce Rd, Woodmoor, 4-Corners, several homes damaged by falling trees & lightning strikes, no serious inj pic.twitter.com/1oIsZiHqhW

— Pete Piringer (@mcfrsPIO) July 20, 2016
Lone Oak Dr and Holmhurst Rd BLOCKED Fernwood Rd & Old Georgetown Rd, tree down & pole on fire pic.twitter.com/FPgoZ02qxt

— Pete Piringer (@mcfrsPIO) July 20, 2016
Traffic Advisory – power outages, signals out, incl Wilson La & Bradley Blvd; Observation Dr & Germantown Rd, to name a few

— Pete Piringer (@mcfrsPIO) July 20, 2016
Update – 10313 Pierce Dr, large tree on house, FFs assisted occupants out, significant damage/house uninhabitable, no inj, family displaced

— Pete Piringer (@mcfrsPIO) July 20, 2016
In last 30 minutes MoCo MCFRS Emergency Communications dispatching about 1 call per minute, everything still under control

— Pete Piringer (@mcfrsPIO) July 20, 2016
Lightning Strike Close Call on Snow Point Dr last nite (11p) neighbors extinguished siding on fire before FD arrived pic.twitter.com/N00Y6StFYG

— Pete Piringer (@mcfrsPIO) July 20, 2016