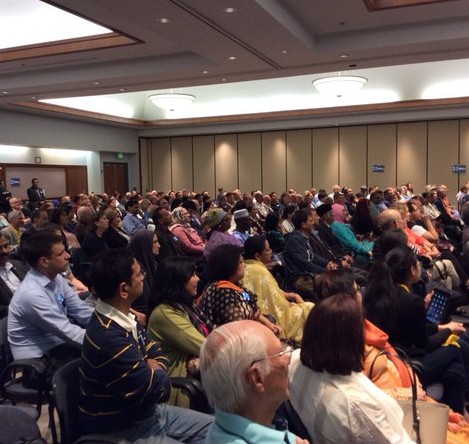 Coalition of American Muslims for Hillary Hold Rally in Rockville (PHOTOS & VIDEO)
Hundreds turned out for a rally hosted by the Coalition of American Muslims for Hillary on Sunday in Rockville. The event drew over 500 people as well as local and national political leaders.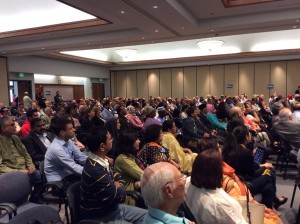 Sultan Chowdhury is a member of the Coalition of American Muslims for Hillary and one of the organizers of the event.
We want to show the political leadership that Muslims for a significant community here and we participate in the political process….We believe Hillary reflects the vision of the country and she will be a uniter,"Chowdhury said.
National political leaders including U.S. Representative Elijah Cummings (D-7th District), U.S. Representative John Sarbanes (D-3rd District) and U.S. Secretary of Labor Tom Perez gave remarks during the event. Congressman Cummings touched on the current tone of the presidential campaign and challenged politicians and voters to value the diversity of America.
"Diversity is not our problem, it's our promise," Cummings said.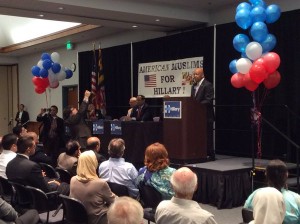 John Podesta is the chair of Hillary for America. Podesta is hoping that Marylanders support Hillary Clinton for the Maryland Presidential Primary. During his remarks, Podesta added that Hillary Clinton could secure the nomination after the April 26th primaries and become the first female candidate for president from a major political party in the United States.
"We brought a big multicultural group out in support of Hillary because the Maryland Primary is critical," Podesta said."We want to win big here and I think that the campaigning she's done around the country and here in Maryland demonstrates that she's the person that can deliver results."
Organizers expect hundreds to turn out and support @HillaryClinton today in #Rockville @mymcmedia #vote #2016 pic.twitter.com/ynr9MkTN5k

— Willie James Inman (@imwilljames) April 24, 2016
.@johnpodesta says that @HillaryClinton is the candidate that will bring the country together. @mymcmedia pic.twitter.com/SeQCeL20nr

— Willie James Inman (@imwilljames) April 24, 2016
.@LaborSec Tom Perez speaks at American Muslims for @HillaryClinton event in #Rockville pic.twitter.com/U9MzeZYujG

— Willie James Inman (@imwilljames) April 24, 2016
Related: