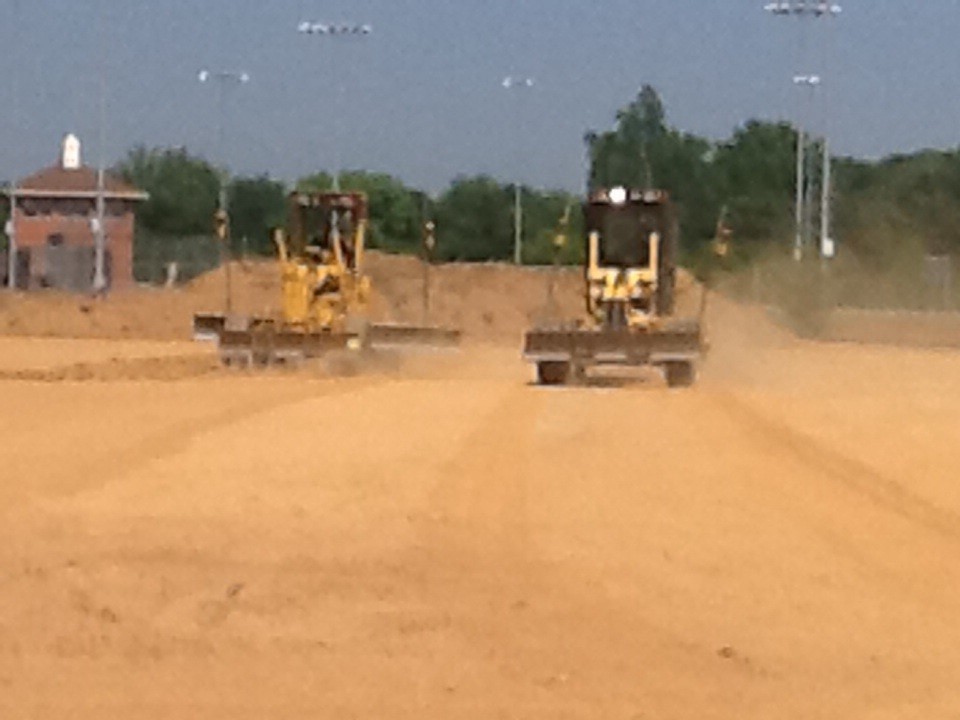 Coconut, Rice and Cork Underfoot at Lakelands Park Field (Video)
Work is underway at Gaithersburg's Lakelands Park where bulldozers have been ripping up the grass readying the site for  Montgomery County's first organic artificial turf field.
Instead of a black rubber fill, this turf will be installed using 100 percent organic coconut fibers, rice husk and cork. The mix of organic materials absorbs humidity and then releases it through evaporation much like the body uses sweat to cool itself, according to Domenic Carapella, Eastern Business Development Manager for Hellas  Construction, Inc, the company doing the work. That will make the playing surface up to 80 degrees cooler than a traditional artificial turf field on a hot day.
"You want to cook your dinner and not your kids," said N. Grove Teates, Jr, president of Alpine Services, Inc, a Gaithersburg company hired to install the field.
The turf and infill will arrive in the next few weeks from a factory in Italy and will be rolled out "like indoor carpet" on 14-foot-wide rolls, Teates said.
The city-owned park is at 1368 Main Street.  The field is a bit shorter than a traditional soccer field at 212 feet by 360 feet, according to Gaithersburg Recreation and Parks Services Division Chief Jim McGuire. The Lakelands site was selected as a pilot program for the new turf because of the high amount of hours users  on it and the dedication to green initiatives from the mayor and city council, McGuire said.
If the project is deemed a success, it may be next used at the the Robertson Park field at 801 Rabbitt Road in Gaithersburg. McGuire said that decision is likely a few years away.
The project includes a chain link fence that will surround the field to keep vehicles off the field.
Lakelands Park Middle School has a joint use agreement with the city to allow the school to use the field during the school day. The rest of the time the field will be open to the public. Users will have to schedule time with the city's Department of Parks and Recreation at a rate of $100 an hour for residents and $120 an hour for non-residents. Anyone wanting to schedule time on the field can call the city at 301.258.6350.
The nearly $1 million project is set to be completed before students return to school Aug. 26.

Related: