College Football Predictions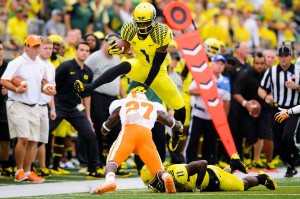 (2) Oregon at (16) Washington- Even though this game is in Washington I think it will be hard for Washington to guard the speed of Oregon. De'Anthony Thomas is averaging 8 yards per rush and 19 per reception. Washington has not won against Oregon since 2003 and has lost each game by a average of 25.8 points. This year Washington is better than ever with Keith Price and Bishop Sankey playing great football. Sankey is averaging 5.6 yards a carry and has 7 touchdowns. The odds and stats are against Washington and so am I.
Prediction: Oregon by 14
(7) Georgia vs. (25) Missouri – I am predicting an upset here because of all the injuries for Georgia. They are missing their 2 top runningbacks and wide receivers to lower body injuries. Tennessee came to close for comfort to beating Georgia with a pretty healthy Georgia roster. Now Georgia has a banged up squad and Aaron Murray will have to carry a big load. Missouri is a tough team to beat and Leonard says they won't be beat.
Prediction: Missouri by 3
(10) LSU vs. (17) Florida- I think that LSU will win but it will not be the cake walk people think it will be. This game is the best offense in the SEC vs. the best defense in the SEC. LSU's offense is averaging 46 points per game and Florida is allowing 12. Ultimately I think it comes down to if Florida can produce points and if back up quarterback Tyler Murphy can play good. Even though quarterback Jeff Driskel is out with a season ending injury I feel the Gators still have a shot to win. LSU is 27-1 at home in the last 28 games and Leonard says you can put 28-1 on the board because the Gators won't stop these Tigers.
Prediction: LSU by 10
Ole Miss vs. (9) Texas A&M- Texas A&M by 14
Texas vs. (12) Oklahoma- Oklahoma by 10
Wisconsin vs. (19) Northwestern- Wisconsin by 7
Rutgers at (8) Louisville- Louisville by 6
Arkansas vs. (14) South Carolina- South Carolina by 17