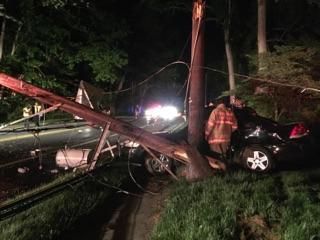 Collision Closes Kemp Mill Road in Silver Spring
Montgomery County fire and rescue crews extricated one person from a one car collision in the 12400 block of Kemp Mill Road in Silver Spring overnight, according to Fire and Rescue Spokesperson Pete Piringer.
Piringer said a 19-year-old has been transported to the hospital with serious but not life threatening injuries.
According to Alert Montgomery, Kemp Mill Road is shut down between Glenallan Avenue and Stonington Road because wires are down. Piringer said Pepco has been contacted.
Update – Kemp Mill Rd, 19 YO male patient is extricated, EMS evaluating, Pri2 serious, but NLT, power under control, EMS searching area

— Pete Piringer (@mcfrsPIO) May 13, 2015
(330a) #mcfrs crews extricated 1 person from single car collision 12400 blk Kemp Mill Rd, EMS transported pic.twitter.com/CrzbLhI6TA — Pete Piringer (@mcfrsPIO) May 13, 2015
U/D – Kemp Mill Rd, PEPCO power company crew on scene, car entangled in 'live' wires, 1 person trapped in car, Road CLOSED near Glenallan Av

— Pete Piringer (@mcfrsPIO) May 13, 2015
Traffic Advisory – 12400 blk Kemp Mill Rd, near Glenallan Av, collision w/ entrapment, 'live' wires on car, PEPCO requested to expedite — Pete Piringer (@mcfrsPIO) May 13, 2015