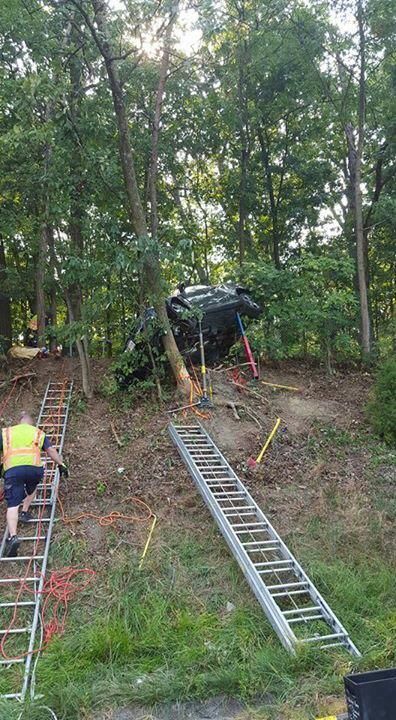 Collision Shuts Down I-270 Southbound Before Clarksburg Road (PHOTOS)
Two vehicles collided along I-270 just before the Tuesday afternoon rush hour shutting down all southbound lanes before Clarksburg Road, according to a Montgomery County fire rescue spokesperson.
On his Twitter account, Fire and Rescue Services Spokesperson Pete Piringer reported that one of the vehicles went into a wooded area and it took rescue crews 30 minutes to extricate the driver.
Piringer said all lanes of southbound I-270 were closed until 5 p.m. or more than 90 minutes after the crash occurred.
More…..SB I270 earlier, crash involved 2 vehicles, 1 of which went into woods, all lanes of SB I270 Closed til >5p pic.twitter.com/ITB6E4YKNB

— Pete Piringer (@mcfrsPIO) September 1, 2015
ICYMI (320p) SB I270 near Rt109 Clarksburg, 2 car crash, 1 car into woods, driver trapped (>30 minutes) & extricated pic.twitter.com/AhWAbwhSJh — Pete Piringer (@mcfrsPIO) September 1, 2015
Update – Clarksburg, SB I270, trapped victim has been extricated, EMS evaluating 1 adult male, Pri2, trauma, some lanes remain CLOSED

— Pete Piringer (@mcfrsPIO) September 1, 2015
Update – SB I270 near Rt121, 2-car collision, 1 vehicle off road, 1 person trapped, some lanes are CLOSED/BLOCKED — Pete Piringer (@mcfrsPIO) September 1, 2015
Traffic advisory – southbound I 270 near Rt121, collision, lanes are blocked

— Pete Piringer (@mcfrsPIO) September 1, 2015
Fire dept activity closes SB I-270 before MD-121 (exit 18). Expect delays. #mdtraffic — MC Emergency Mgt (@ReadyMontgomery) September 1, 2015