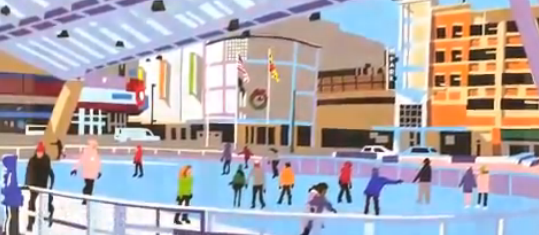 Community Reflections (Video)
Community Reflections, currently on exhibit at the Betty Mae Kramer Gallery in Silver Spring through March 29, is a bold and beautiful display of artsworks that explore community–here in Montgomery County and abroad.  Watch this video to learn how Dr. Michele Cohen, curator for the  Kramer Gallery, selected works. Dr. Cohen will discuss artworks by Joseph Craig English (Washington Grove) and Cynthia Farrell Johnson (Silver Spring). Featured are Joseph Craig English's meticulously detailed serigraphs of local architecture and landmarks and Cynthia Farrell Johnson's painted impressions of the street scenes and community life she observed during her years of travel in West Africa and Central and South America, and her native New York. Dr. Cohen  discusses how the two artists' styles complement each other and the concepts behind this colorful and dynamic exhibition.
The exhibition is on display until March 29 at the Silver Spring Civic Building. Hours are M -F from 9 a.m. to 6 p.m.  Click here to learn more.