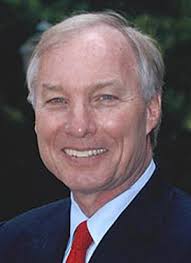 Comptroller Advocates Increased Competition for Liquor Racket
Comptroller Peter Franchot spoke to a half-filled room with the Civic Federation on Nov. 9 at the County Council Building. Speaking of his role on the Maryland Board of Public Works, which he said has approved 18,000 contracts accounting for $85 billion in state spending since he rose to the position from being a delegate from Takoma Park, Franchot emphasized his independence from partisan politics as comptroller.
Franchot portrayed the Board of Public Works as a "court of last resort" against "machine politics," citing his ability to stand up to the Democratic Party in Baltimore County as a champion of Dundalk Citizen groups regarding a development proposal that he voted against.
The comptroller continued to paint himself as the champion of taxpayers and consumers in the face of stifling government overreach. Consumers of education, he said, will support his proposed one-year standardized testing moratorium that prevents "teachers from doing what they're good at; teaching," and adding that many subjects have no application in life, recalling that he "took algebra, trigonometry, and calculus and [has] not used [those subjects] since [he took the courses in school]." He emphasized his plan to require financial literacy instruction for all Maryland students, depicting such instruction as a "civil right for how to acquire wealth." And his plan to push the school start date beyond Labor Day will not only generate additional tourism-related tax revenues, but is a plan that vacationing families support across the state that is only opposed by "about forty people" in the teacher's union and Board of Directors.
Montgomery County, he said, could benefit from the establishment of a similar model to the state's BPW, which could be composed of the County Executive, an individual elected by the Montgomery County Council, and an "elected taxpayer watchdog" to mirror the BPW's three votes: Governor, Treasurer elected by the Maryland General Assembly, and himself, the Comptroller of Maryland. A local BPW could exercise oversight of the Department of Liquor Control's competition, which currently does not yet exist but which he proposed would benefit consumers throughout Montgomery County. According to Franchot, 75 percent of Montgomery County citizens do not support the DLC's liquor distribution monopoly and routinely buy their liquor across state lines, where vodka is sometimes 42 percent less expensive than Montgomery County.
His proposal to introduce competition to the liquor business in Montgomery County comes at a time when the County Council and County Delegation have both introduced similar proposals that differ in degree and which Franchot characterized as insufficient, "piecemeal reform." Franchot argued that his proposal to allow private enterprise to compete with the DLC will result in consumers voting with their feet and their pocketbooks and predicted that if his proposal were to become law, the DLC would see decreased business due to competition. Legislation will be introduced by request of the Comptroller in the 2016 Legislative Session of the Maryland General Assembly in January.
This was originally posted in Revealing Our Humanity.