UPDATED: Confederate Soldier Statue Vandalized in Rockville (PHOTOS)
The Confederate soldier monument that sits near the Red Brick Courthouse in downtown Rockville has been vandalized.
Vandals spray painted "Black Lives Matter" at the base of the monument apparently sometime overnight.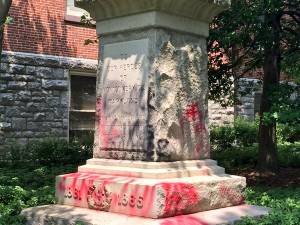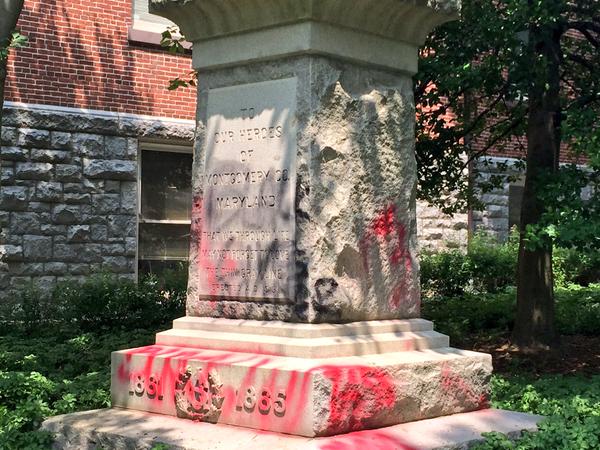 Rockville City Police said the investigation is in the preliminary stages and, so far, no suspects have been identified.
Major Michael England of the Rockville City Police Department said his officers are working with the Montgomery County Sheriff's office and businesses in the area to get video footage to find out when the vandalism took place.
England said the vandalism was reported at 8:29 a.m. on July 27.
"The problem is that we haven't been able to pinpoint when this occurred," England said.
England said there are no cameras on the Red Brick Courthouse near the monument.
This vandalism comes after a debate over what to do with the Confederate Soldier statue that sits on county property. County Executive Isiah Leggett has decided to remove the statue, but the future of the statue is yet to be determined.
In an official statement released today, Leggett called the vandalism "a despicable act."
"This crime is not in keeping with Montgomery County's long history of civil discourse and dishonors our veterans," Leggett said. "I urge the Rockville police to exhaust all remedies in bringing those responsible for this crime to justice. Montgomery County is working to remove the paint and restore the statue to its original condition."
The monument, which was dedicated in 1913, was moved to its current location on the east side of the Red Brick Courthouse in 1971. It depicts a life-sized bronze cavalry Confederate soldier on top of a granite pedestal.