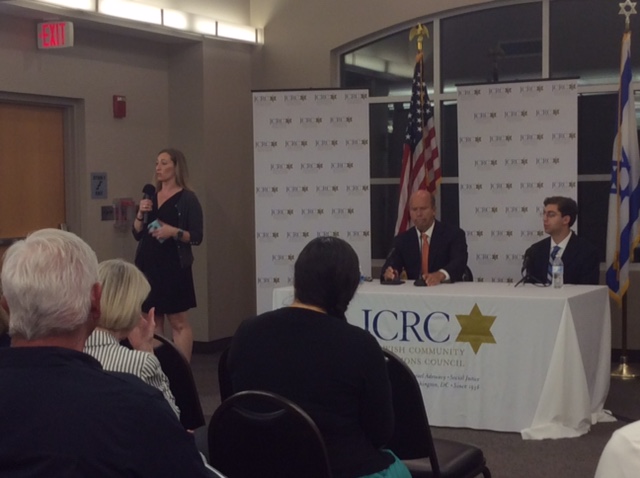 Congressional Candidates Forum at Shaare Torah in Gaithersburg (VIDEO)
The Jewish Community Relations Council (JCRC) recently hosted a Congressional candidates forum for voters in the Sixth District at Shaare Torah in Gaithersburg. MyMCMedia's Sonya Burke reports.
You can find out more about Republican Amie Hoeber and Democrat John Delaney by visiting their websites. The Presidential General Election is Nov. 8th. Early voting takes place from Oct. 27 – Nov. 3. For more information about the election, visit the Board of Elections website, here.
At Shaare Torah for candidates congressional forum tonight in @GburgMD. #MoCo #vote @mymcmedia pic.twitter.com/F1lChGzFUD

— Sonya Burke (@SonyaNBurke) September 19, 2016
Town hall format for tonight's Congressional forum at Shaare Torah. @mymcmedia pic.twitter.com/JikJqX8JG8

— Sonya Burke (@SonyaNBurke) September 19, 2016
.@amieforcongress begins forum with comments about why she is running for Congress. #MoCo #vote @mymcmedia pic.twitter.com/VdbAg85xLz

— Sonya Burke (@SonyaNBurke) September 19, 2016
.@amieforcongress now fielding questions: says not many policy differences between her & @LarryHogan. #MoCo #vote pic.twitter.com/z53EFHpVOc

— Sonya Burke (@SonyaNBurke) September 19, 2016
.@RepJohnDelaney explains why he is running for reelection. @mymcmedia #MoCo #vote pic.twitter.com/q5TaptBSGY

— Sonya Burke (@SonyaNBurke) September 20, 2016
.@MrRobWu & @RySpiegel attend congressional candidates forum at Shaare Torah in @GburgMD. #MoCo #vote @mymcmedia pic.twitter.com/4A6R0V1a9q

— Sonya Burke (@SonyaNBurke) September 20, 2016
.@amieforcongress is asked about term limits during candidates forum tonight. #MoCo #vote @mymcmedia pic.twitter.com/MO0GUdbmIa

— Sonya Burke (@SonyaNBurke) September 20, 2016