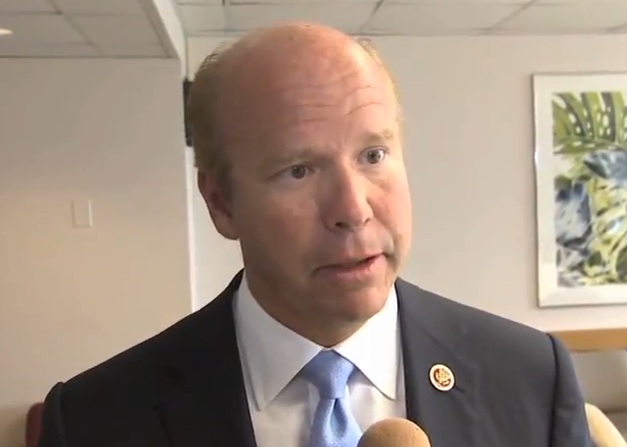 Congressman Delaney: Get Politics Out of Ebola Response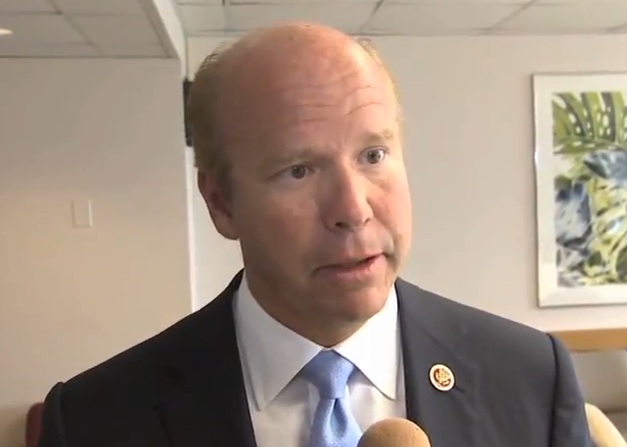 U.S. Representative John Delaney is calling for Congress to reconvene in order to engineer a bipartisan, collaborative approach to the international and national Ebola crisis. Delaney, a Democrat, represents Maryland's 6th Congressional District, which includes a portion of Montgomery County and western Maryland.
On Friday, October 17, I asked Delaney how bringing Congress back to Washington can help win the battle against Ebola. Here's what he told me:
"My point is we clearly have a national and an international crisis on our hands and the American people are very concerned," said Delaney. "This is a health care crisis and there should be nothing about politics involved here."
Perhaps this week, on TV, you saw irate members of Congress sitting in hearing rooms, interrogating Director of the Centers for Disease Control, Dr. Thomas Frieden and others, about how Ebola could have catapulted from remote Africa into the lives of two nurses from Dallas as well as hundreds of other Americans — including 800 passengers of Frontier Airlines who flew on two of the company's planes over the October 10 weekend.
Perhaps you thought Congress was in session, preparing to do something bipartisan to help the president gear up to fight the devastating virus.
You would have been wrong.
"They don't need to be in session to have hearings," Congressman Delaney explained.
In fact, Congress is not due to come back to Washington officially until after the election, the second week in November.
Delaney, though, says that the time to get Congressional resources and energy united behind the President in a plan to beat back Ebola is now. On Friday, he called upon House Speaker John Boehner to call the House back into session.
"There are tangible things we need to do and what has happened is, unfortunately, this is becoming a political issue – and that's crazy," he said.
Delaney says calling Congress back to "craft a bipartisan kind of plan, a bipartisan task force working with the President …would be the best thing for this crisis. We must insure that this does not continue to become a political football," he said. "What people want is for Congress to come here and to work with the President and then emerge saying 'We have all agreed on this policy — and this is our strategy — (which) the President will implement."
Delaney applauded Obama's selection of Ron Klain — whom the NY Times called, "a seasoned Democratic crisis-response operative and White House veteran" — as an excellent choice to help manage the nation's response to Ebola.
"I know Ron Klain. He's very smart, he understands government – which is important — and he is good at risk management," said Delaney. "He is a very substantive, get-things-done kind of guy. "We need someone like him to coordinate our efforts," Delaney explained, "because there are so many parties who must be involved in the solution to the national and international Ebola crisis."
He named just a few: "We have CDC, we have foreign aid, we have the military, we have all the hospitals in the country, we have the nurses associations…We have lots and lots of groups that need a seat at the table."
Asked about a travel ban, Delaney had a measured response. "A complete travel ban without some mechanism to transport aid workers," to and from Africa, or wherever they are needed, is unacceptable, he said. "A travel ban like that would be short-sighted.
"We think about our aid workers like we think about our military – we don't leave them behind," he said.
"Having said that, if we have the mechanism in place to insure that aid workers and the military can come back and forth, then I am in favor of a travel ban — but I want this aid worker situation addressed. If you don't have that, then you will prevent aid from getting to Africa. (If you don't stop Ebola in Africa), then it will spread."
The arrival on Friday, October 17 of Dallas nurse Nina Pham to the Clinical Center at the National Institutes of Health in Bethesda, Delaney said, brings the Ebola problem directly into the lives of many of his constituents in Maryland's sixth district.
Although the hospital itself is in Maryland's eighth Congressional District, represented by Chris Van Hollen (D), Delaney says most NIH employees probably reside in District 6. In addition, he noted the sixth district includes Fort Detrick in Frederick, MD, which houses important research at the National Center for Biodefense.
On bringing an Ebola patient to Maryland, Delaney said, "NIH is about as good a place as you can find for this sort of thing, but, like everything with Ebola, I think up to now we have underestimated it. If you read what they were doing in Dallas with that hospital, there was one story that they weren't completely covered (in biohazard safety garb). Their necks were exposed – so they were putting tape on their necks. Well, it seems when you take the tape off, you get abrasions – and they make you more susceptible. Clearly, the ball was dropped in Dallas. We can't afford for that to happen here," he said.
"Now that we have Ron Klain in this job, we need the CDC in coordination with groups representing health care workers, lab technicians and others – all to come together — and double and triple-check the procedures they are using. Places like Emory (University Hospital in Atlanta) where they have already treated a couple of these patients and NIH are very good – but that doesn't mean they don't need to up their game as well," he said.
Delaney also favors putting more resources into the effort to fight Ebola in Africa.
In response to the increased risk of a major outbreak, Delaney argues that "controlling this outbreak before the virus becomes airborne should be our top priority" and, that, "it is critical that the United States make every effort to get ahead of this crisis, not play catch up. Rather than simply responding to the crisis as it stands now, we must over-correct and prepare for what could become a much larger outbreak. One thing differentiates Ebola on the positive side for the moment," he said, "and that is that is it not yet an airborne virus. You still need bodily contact with physical fluids to spread it. While the chances of it becoming an airborne virus (which can spread with a breath or a sneeze) are small – they are not zero. Viruses become airborne by mutating, and the more people who have the virus, the higher the chances of the virus becoming airborne."
On September 16, Delaney wrote to President Barack Obama, Speaker of the House John Boehner and House Democratic Leader Nancy Pelosi, to urge more resources be sent to Africa to improve infrastructure, train health care workers and add to international aid to stop Ebola before it mutates into an airborne virus. "From both a humanitarian and a risk-management perspective, it is better to over-correct because thousands, perhaps millions of lives could be at stake."
The text of that letter is on the Congressman's website: http://delaney.house.gov/news/press-releases/delaney-sends-letter-to-white-house-and-house-leadership-urging-aggressive.

Related: