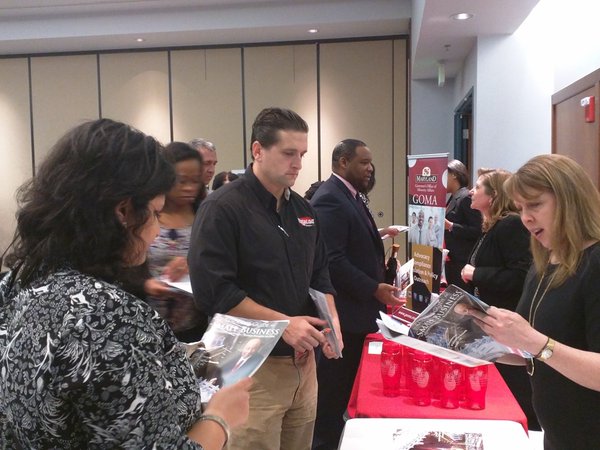 Congressman John Delaney Discusses Opportunities for Local Entrepreneurs (PHOTOS)
Over 250 local business owners and entrepreneurs attended a workshop hosted by Congressman John Delaney on Monday night at the Universities of Shady Grove in Rockville.
Congressman Delaney said, "This event is about entrepreneurship, it's about making sure that small business owners understand all the resources available to them to help them succeed in either starting their business or growing their business."
The workshop featured U.S. Small Business Association (SBA) Administrator Maria Contreras-Sweet, as well as state and local panel participants. Congressman Delaney moderated a Q&A session shortly after his remarks.
Germantown business owner Tina Patterson said, "I came out here today because I thought this was an excellent opportunity as a small business owner to learn more about how I can grow my business as well as find out more about what support systems are available. Whether that's through the SBA or whether that's through local entities such as the Montgomery County procurement office."
.@RepJohnDelaney says- #MoCo has a lot of significant assets that create a good environment for small biz to grow. pic.twitter.com/bFUMTDaChf

— Willie James Inman (@imwilljames) December 14, 2015
Local entrepreneurs arrive at an event hosted by @RepJohnDelaney at the Universities of Shady Grove @mymcmedia pic.twitter.com/hQPxXQFucP

— Willie James Inman (@imwilljames) December 14, 2015
Over 250 people present at tonight's entrepreneurship workshop hosted by @RepJohnDelaney @mymcmedia pic.twitter.com/UsLWOpg4ZA

— Willie James Inman (@imwilljames) December 14, 2015
.@MCS4Biz says- @SBAgov Loans are up 23% for minority entrepreneurs at event hosted by @RepJohnDelaney @mymcmedia pic.twitter.com/ItHeVtKsTK

— Willie James Inman (@imwilljames) December 14, 2015
Moderating our entrepreneurship panel and taking questions from aspiring job creators pic.twitter.com/YtM3ISmLsD

— Rep. John Delaney (@RepJohnDelaney) December 14, 2015