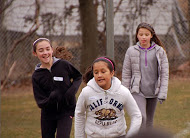 Connecting Our Community: Girls on the Run
Just in time for their Spring 5K you can learn all about the wonderful Girls on the Run of Montgomery County!
On this episode of Connecting Our Community, host Karen Allyn is joined by Elizabeth McGlynn the Executive Director of Girls on the Run of Montgomery County.
Girls on the Run is a program for girls in grades 3 thru 8 that is sweeping the nation. It now boasts over 130,000 girls in 200+ cities across North America each year.
Their Spring 2015 race will be held on Sunday, May 17th. The 5K starts at 9:00 a.m.
To volunteer for the Spring 2015 5K event you can go to, https://www.raceplanner.com/register/info/1WFJM86BPO8CXKI
To find out more or volunteer with the Girls on the Run you can visit their website, http://girlsontherunofmoco.org/ or call: 301.881.3801
Watch Connecting Our Community Wednesdays at 8:30 p.m. on ch. 21!