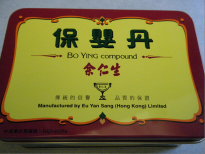 Consumers Warned of Lead Issues in Bo-Ying Compound
The Maryland Department of Health and Mental Hygiene (DHMH) is warning consumers about lead contamination found in Bo-Ying Compound manufactured by Eu Yan Sang (Hong Kong), a powdered product marketed for the treatment of a wide array of conditions in infants and children.
DHMH is working with the U.S. Food and Drug Administration (FDA) and public health officials in other states to alert consumers to the hazard of this product, according to a news release from DHMH. Parents and caregivers are advised not to purchase or use this product. Anyone using this product or providing it to a child should consult a health care professional as soon as possible. Children are especially sensitive to lead exposures, and any lead exposure should be avoided. Even low levels of lead exposures in children have been associated with impaired cognitive functioning, including reduced IQ, behavioral difficulties and other health problems, according to a news release from the department. Exposure to lead can also cause anemia and can damage the central nervous system, kidneys, and immune system, according to the release.
DHMH Laboratories have found elevated levels of lead in these products. While the DHMH is unaware of any cases of elevated blood lead in Maryland from these products, FDA has reported one adverse event in an 18-month-old child who was given this product.
The Maryland Department of Health and Mental Hygiene analyzed samples of this product being sold in two stores in Montgomery County and found lead levels between 1.224-3.385 parts per million (ppm). There is guidance from the U.S. Food and Drug Administration (http://goo.gl/ApJEgh)  that recommends a maximum lead level of 0.1 ppm in candy likely to be consumed frequently by small children.  The lead levels typically found in foods is well below this guidance level. The levels in Eu Yan Sang's Bo-Ying product, at 1.224 – 3.385 parts per million, were anywhere from 12 – 34 times the level recommended by FDA for lead in candy. according to DHMH Spokesman Christopher Garrett.
The FDA learned of this risk from the New York City Department of Health & Mental Hygiene after the product was tested and found to contain high levels of lead. The powdered product is marketed in retail outlets and online for use in infants and children for treatment of a variety of conditions including influenza, fever, sneezing, and nasal discharge. The product is labeled in Chinese and English.