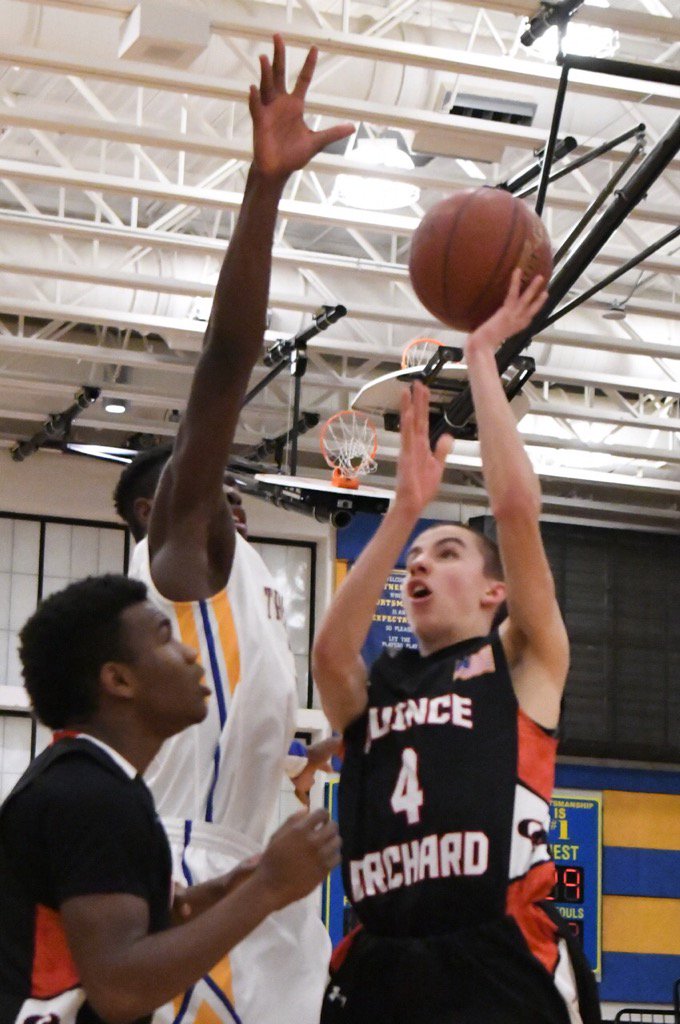 Cougars Over Trojans, 59-56, in Hoops Action (PHOTOS)
The Quince Orchard (QO) Cougars are celebrating a close one after they defeated the Gaithersburg Trojans, 59-56, on the road Friday night.
With just over two seconds left on the clock, junior Jack Faraone sunk a three-pointer to clinch the win for the Cougars and improve the team's record to 16-1. QO's only loss this season to date was against Seneca Valley.
Next up for QO: a conference game at home against the Northwest Jaguars on Tuesday. The Trojans (4-11) take on Clarksburg on Jan. 31.
Photographer Phil Fabrizio was at the Friday night game and captured some of the action, below:
Friday night in Gaithersburg where Quince Orchard faces the hometown Trojans @mymcmedia @Gburgathletics pic.twitter.com/8txV4XYmPv

— Phil Fabrizio (@Photoloaf) January 27, 2017
Trojans trail after 1 at home against QO 16-11 @mymcmedia @QOAthletics @Gburgathletics pic.twitter.com/b8WZeiMHiL

— Phil Fabrizio (@Photoloaf) January 27, 2017
Trojans outscore Cougars 18-11 in the 2nd to lead at half 29-27 @mymcmedia @Gburgathletics @QOAthletics @cszscores pic.twitter.com/PAfgQsYcKB

— Phil Fabrizio (@Photoloaf) January 27, 2017
44-41 in a tight one in Gaithersburg. Cougars lead. @mymcmedia @Gburgathletics @QOAthletics pic.twitter.com/LZG4EuFrWc

— Phil Fabrizio (@Photoloaf) January 27, 2017
More 3rd QTR action from Gaithersburg @mymcmedia @QOAthletics @Gburgathletics pic.twitter.com/z3F0LPpHMg

— Phil Fabrizio (@Photoloaf) January 27, 2017
Jack Farone hits a 3 with 2.2 seconds left to put QO over the top 59-56 in Gaithersburg @mymcmedia @QOAthletics pic.twitter.com/HInbsIEaiA

— Phil Fabrizio (@Photoloaf) January 27, 2017
Final Cougars 59. Trojans 56. @mymcmedia @Gburgathletics @QOAthletics @allmetsports @cszscores pic.twitter.com/RBUjXU06r1

— Phil Fabrizio (@Photoloaf) January 27, 2017