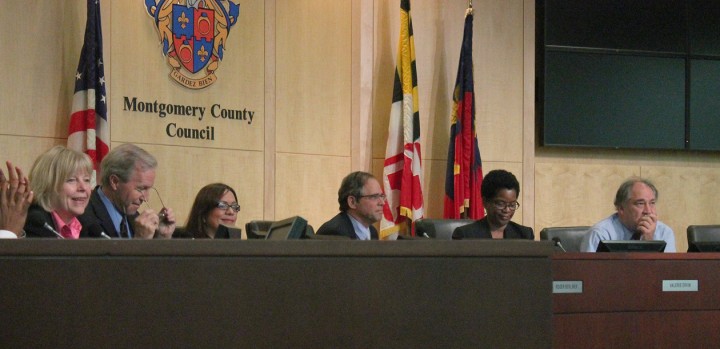 Council Committees Meet July 22
The Montgomery County Council's Education Committee meets at 9:30 a.m. on July 22 to receive an update on implementation of the first public charter school in the County. In July 2011, the Board of Education approved the application of the Crossway Community Montessori Charter School in Kensington, which opened with 67 students this past school year.
The Education Committee, which is chaired by Valerie Ervin and includes Councilmembers Phil Andrews and Craig Rice, will meet in the Third Floor Conference Room of the Council Office Building at 100 Maryland Ave. in Rockville. The meeting will be televised live by County Cable Montgomery (CCM—Cable Channel 6 on Comcast and RCN, Channel 30 on Verizon) and will be streamed through the county Web site at www.montgomerycountymd.gov.
Representatives of Crossway Community, Inc., a non-profit that has been operating the Family Leadership Academy in the former Pleasant View Elementary School in Kensington for 20 years, and Montgomery County Public Schools (MCPS) are scheduled to address the Council on the progress of the charter school. MCPS has worked closely with Crossway to develop the charter contract and work through the many issues involved in starting a charter school.
The Education Committee also will get an update on edible gardens in public schools and opportunities for students and schools to incorporate gardening into their communities. A total of 28 schools have already integrated edible gardens into their school programs and more than 85 others have expressed an interest in establishing gardens.
Another worksession before the committee will focus on Board of Education policies and MCPS practices regarding facility improvements and school activities that are funded with private donations rather than County revenues. On March 20, the Education Committee wrote to the Board of Education expressing its concern that "private contributions may lead to or exacerbate inequities among our communities and our schools." The committee expressed interest in understanding the board's perspective on the issue.
At 9:30 a.m. in the Seventh Floor Hearing Room, the Transportation, Infrastructure, Energy and Environment Committee, which is chaired by Roger Berliner and includes Councilmembers Nancy Floreen and Hans Riemer, will address Expedited Bill 21-13 that would clarify the Planning Board's authority to enforce the County's forest conservation law and would more specifically to enforce easements previously granted.
The committee also will hold a worksession with representatives of the Washington Metropolitan Area Transit Authority (WMATA, or better known as Metro) on its long-term plans for projects and programs. Part of the draft "Momentum Plan" calls for proposed improvements by 2025 that would cost an estimated $5,950 million (in 2012 dollars). Of that amount, Metro has already programmed $431 million for its Fiscal Years 2014-19 six-year plan—leaving a gap of $5,519 million.
At 2 p.m. in the Seventh Floor Hearing Room, the Planning, Housing and Economic Development Committee, which is chaired by Councilmember Floreen and includes Councilmembers Marc Elrich and George Leventhal, will discuss the fiscal and economic impact of the proposed Long Branch Sector Plan. This first worksession on the plan also will discuss transportation issues regarding the redevelopment of Long Branch.