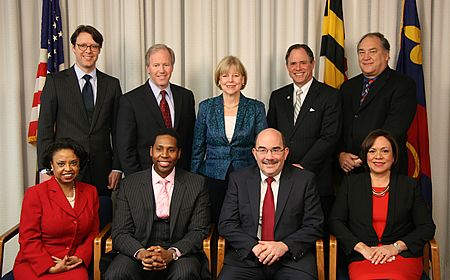 Council Passes Public Campaign Financing
The Montgomery County Council today unanimously enacted Bill 16-14, which will allow candidates for County Council and County Executive to qualify for partial public financing for their campaigns. This is the first measure of its type for County elective offices in the Washington Region and in the State of Maryland.
Councilmember Phil Andrews was the chief sponsor of the bill, which was co-sponsored by Council President Craig Rice, Vice President George Leventhal and Councilmembers Roger Berliner, Cherri Branson, Marc Elrich, Nancy Floreen, Nancy Navarro and Hans Riemer. The bill will take effect starting with the cycle leading to the 2018 County elections.
Since 2001, members of the Montgomery County Council have urged the Maryland General Assembly to provide the County with the authority to adopt campaign finance reforms. In 2013, the General Assembly enacted a bill that enables counties to provide for the option of public financing for county elective offices beginning with the 2015-18 election cycle. Participation by candidates would be voluntary.
"The goals of this plan are to reduce the influence of big money in County elections and on County public policy, encourage more residents to participate in County elections and expand opportunities for more candidates to run for County office who do not have access to big contributions from interest groups or individuals," said Councilmember Andrews.
The bill would establish a Public Election Fund. To qualify for public financing, a candidate would have to:
File a Notice of Intent prior to collecting qualifying contributions
Establish a publicly funded campaign account
Only accept contributions from an individual of between $5 and $150
Refuse to accept a contribution from any group or organization, including a political action committee, a corporation, a labor organization or a State or local central action committee of a political party
Collect a qualifying number of contributions from County residents: 500 for County Executive candidates, 250 for at-large Council candidates and 125 for district Council candidates
Meet qualifying dollar thresholds of $40,000 for County Executive, $20,000 for at-large Councilmember and $10,000 for district Councilmember
Limits are indexed to inflation
Only contributions from County residents are eligible for matching funds
The plan provides strong incentives for candidates to seek out many small individual contributors. Matching public dollars for County Executive candidates would be $6 for each dollar of the first $50 of a qualifying contribution received from a County resident, $4 for each dollar for the second $50 and $2 for each remaining dollar received up to the maximum contribution. Matching dollars for County Council candidates would be $4 for each dollar of the first $50 received from a County resident, $3 for each dollar for the second $50 and $2 for each remaining dollar received up to the maximum contribution.
The maximum limit on public funds per candidate for either the primary election or the general election will be $750,000 for a County Executive candidate, $250,000 for a Council at-large candidate and $125,000 for a district Council candidate. Matching dollars would not be distributed for self/spouse contributions or to candidates running unopposed.