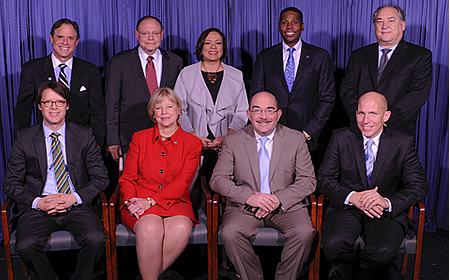 Council Unanimously Approves Sick and Safe Leave Bill (VIDEO)
The Montgomery County Council today unanimously approved Bill 60-14 that will require most employers doing business in the county to provide earned sick and safe leave to employees for work performed in the county. Enactment of the bill makes Montgomery County one of the few local jurisdictions in the nation to have some form of required sick and safe leave requirements for employees.
Earned sick and safe leave is paid leave that can be used for the injury or illness of the employee or the employee's immediate family. It also can be used for time off needed due to domestic violence suffered by the employee or a member of the employee's immediate family.
Under Bill 60-14, an employer could provide any type of paid time off that can be used by the employee for each of the purposes outlined in the bill to satisfy the earned sick and safe leave requirement. The bill applies to an employee, but not an independent contractor. The bill also excludes an employee who works less than eight hours a week.
The bill will take effect on Oct. 1, 2016, for most employees it covers.
Council President George Leventhal and Nancy Navarro were the lead sponsors of Bill 60-14. Councilmembers Marc Elrich, Tom Hucker, Hans Riemer and former Councilmember Cherri Branson were co-sponsors. Councilmembers Roger Berliner, Nancy Floreen, Sidney Katz and Craig Rice also voted to enact the bill.
"This policy will improve the lives of working families in our County where more than 100,000 workers currently lack even one paid sick day," said Council President Leventhal. "More parents will be free from making the heart-wrenching choice between taking care of a sick child or losing a day of pay."
Bill 60-14 will require an employer to provide earned sick and safe leave at a rate of at least one hour for every 30 hours an employee works in the County up to 56 hours in a calendar year. An employee would have to be paid for earned sick and safe leave at the same rate, and with the same benefits, as the employee normally earns. A tipped employee would have to be paid at least the County minimum wage for each hour the employee uses earned sick and safe leave.
The Council approved an amendment to help small businesses. That amendment provides that an employer with fewer than five employees would have to provide an employee with up to 32 hours of paid sick and safe leave per year plus an additional 24 hours of unpaid sick and safe leave.
"In a progressive and civilized society, workers deserve basic rights," said Councilmember Navarro. "One of those rights is the ability to take paid, earned leave when they are sick, to care for a loved one, or during a time of crisis. I am pleased Montgomery County is leading once again by passing this bill that reflects our values and brings meaningful protections to thousands of our lowest income and most vulnerable workers."
Although the states of California, Connecticut and Massachusetts have instituted some forms of earned sick and safe leave requirements, Montgomery will be joining a handful of local jurisdictions to have such legislation. Those other jurisdictions include the District of Columbia; Jersey City and Newark in New Jersey; New York City; Portland, Ore.; San Diego; San Francisco and Seattle.
Maryland State legislation to mandate earned sick leave was introduced in the General Assembly in 2014 and 2015, but was not enacted.
The U.S. Bureau of Labor Statistics reported that in 2014 61 percent of workers in private-industry businesses had paid sick leave, while 89 percent of workers in state and local governments have paid sick leave. Private-industry businesses with fewer than 100 workers provide 52 percent of workers with paid sick leave; in contrast, private employers with more than 100 employees provide 72 percent of employees with paid sick leave. Private industry provides 74 percent of full-time workers with paid sick leave, whereas only 24 percent of part-time workers received the benefit. Nonunion employees are less likely to have paid sick leave than union employees.
Before the vote, a rally was held in support of the bill at the Council Office Building.
Councilmember Marc Elrich said: "Today's legislation, like the County's minimum wage law, is another great example of a local jurisdiction addressing pressing economic and social justice issues that the Federal government has been unable to fix. This Sick and Safe Leave legislation provides protections for both employees and the public that will allow employees to take time off when they're sick without fear of losing their jobs or losing their ability to pay necessary expenses. We have far too many people in Montgomery County for whom the loss of a day's wages would mean they could not pay rent.
"I introduced an amendment to the bill that addresses concerns of some of our smallest businesses. It reduces the paid portion of sick leave from 56 hours to 32 hours each year for employers with fewer than five employees. I, like my colleagues, have looked for a way of addressing some of those concerns and I am grateful for their support of my amendment. This is an outstanding piece of legislation and will make our County stronger."
Councilmember Tom Hucker said: "No parent should have to choose between taking care of their sick child or loved one, and putting food on the table. No worker should have to choose between losing a paycheck and their health. Everyone gets sick and everyone deserves paid sick days. As a father of two, I know the importance of paid sick leave and that is why this issue has been a priority for me. Our bill will improve the quality of life for thousands of families, especially those who are part of our working class and diverse communities. This is good for business and good for workers. It is good government and good economics."
Councilmember Hans Riemer said: "As a parent to young children I know how important it is for families to have paid sick leave benefits. I am proud that our Council has acted to ensure that every employee in Montgomery County will have this basic protection."