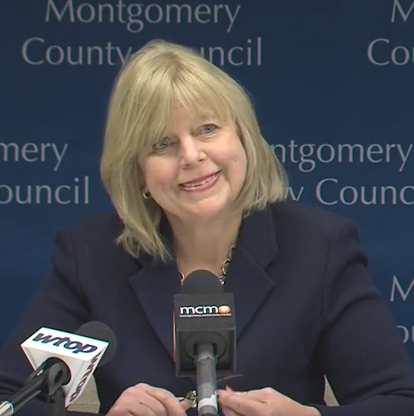 Council President Floreen Requests MCPS Suspend Plans for Moving Buses to Carver Lot (VIDEO)
Montgomery County Council President Nancy Floreen has sent a letter today to  School Board President Michael Durso requesting that Montgomery County Public Schools (MCPS) suspend "all planning and other preparatory activity related to the proposed Carver site," until the Council takes up the issue in June.
"We share your concern that the ultimate transition of this critical element of MCPS transportation operations must be carefully and thoroughly planned," Floreen wrote.
Floreen also addressed the bus depot issue at a recent briefing, "At the end of the day though, we do need permanent solutions for a lot of buses, and again like everything else, it's not inexpensive," she said.
The County government has set a deadline of January 2017 for the Shady Grove Bus Depot, which currently accommodates more than 400 school buses, to be vacated so that developers can start building a neighborhood near the Shady Grove Metro station. The School Board is currently considering moving 100 buses from the Shady Grove Depot to the Carver Educational Services parking lot as an interim solution, which has drawn strong opposition from a group of residents.
Montgomery County Councilmembers Sidney Katz, George Leventhal, and Marc Elrich also opposed the plans to move buses to the Carver lot and sent a memo to County Council on May 13th, requesting that the Council ask MCPS cease activity related to the to the proposed Carver lot.
According to Floreen, the Council will hold a work session on the bus depot on June 21st.