Council President Leventhal to Meet with Media on Monday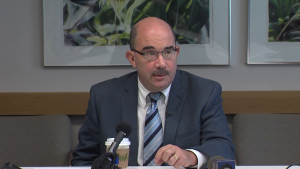 Montgomery County Council President George Leventhal is scheduled to meet with members of the media at noon on Monday.
Leventhal is expected to discuss the recommended Fiscal Year 2016 budget savings plan that was proposed by County Executive Isiah Leggett. The County Council votes on its budget savings plan on Tuesday. Leventhal is also expected to answer questions about the revised plan for local funding for the Purple Line and the status of the Silver Spring Transit Center.
Follow @MyMCMedia on Twitter for updates from Leventhal's briefing. You can also find a video of Leventhal's new conference posted on the MyMCMedia website on Monday afternoon.