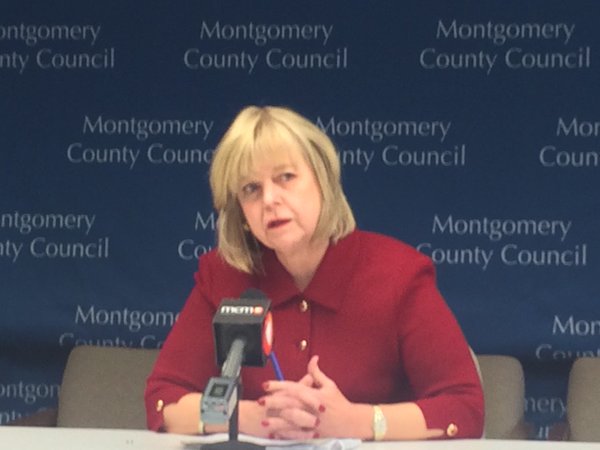 Council President Nancy Floreen Discusses Budget and Potential Property Tax Hike, Westbard and More at Weekly Briefing (VIDEO)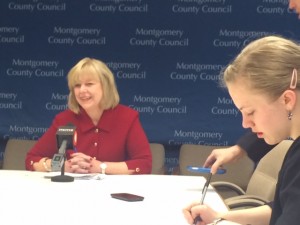 Montgomery County Council President Nancy Floreen discussed the Metro, the county budget, the Westbard Sector Plan, early voting, the Montgomery delegation's work in Annapolis and more at her weekly briefing on April 11.
Some of the highlights:
According to Floreen, over 200 people testified during budget hearings last week. She noted that a petition was being circulated against a potential property tax hike, and she said it would take a vote of nine Councilmembers to go over the charter limit. Another interesting point: she recently learned that state employees did not get a cost of living increase. She pointed to a budget memo authored by Stephen Farber in this week's Council packet as a source of great information as the Council begins budget deliberations.
She said a resolution on the Westbard Sector Plan has been delayed until the first meeting in May.
Floreen called early voting "the big news" of the week and encouraged residents to cast their ballots early. Early voting takes place from April 14 – 21 at ten sites across the county.
She also complimented the Montgomery delegation on its work in Annapolis this session: she specifically named legislators Nancy King and Shane Robinson.
When asked if she plans to run for County Executive in 2018, she said that is not something she is thinking about right now.
You can watch the briefing in its entirety below:
.@NancyFloreen compliments Annapolis delegation on work this session. @mymcmedia pic.twitter.com/J8P8U7lvoo

— Sonya Burke (@SonyaNBurke) April 11, 2016
Big news says @NancyFloreen is early voting begins Thursday. @mymcmedia #MoCo #vote pic.twitter.com/cyGPvzhb7U

— Sonya Burke (@SonyaNBurke) April 11, 2016
.@NancyFloreen news briefing is now underway. Begins w update on #Metro meeting. @mymcmedia pic.twitter.com/bnhKNNhMQw

— Sonya Burke (@SonyaNBurke) April 11, 2016
.@NancyFloreen news briefing starts soon–check out new background. @mymcmedia @MoCoCouncilMD pic.twitter.com/hTJRI9Q8bE

— Sonya Burke (@SonyaNBurke) April 11, 2016