Council President Rice to Meet With Media on July 14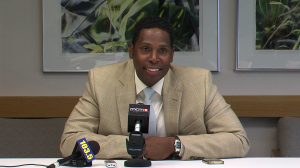 Montgomery County Council President Craig Rice will meet with members of the media at noon on Monday, July 14, to discuss key items that will be facing the County Council and its respective committees in the near future.
At the briefing, Rice is expected to recap the Education Committee meeting that is also scheduled for Monday morning. County officials said that meeting will focus on the Office of Legislative Oversight report on the performance of County high schools.
Council President Rice's meeting with media members will be held in the 6th floor Conference Room of the Council Office Building at 100 Maryland Ave. in Rockville. MyMCMedia will post a video of the briefing on the MyMCMedia website later in the day.
Another topic on Rice's agenda:  the selection process to select a new chair of the County Planning Board. On July 8, the Council interviewed the five finalists for the position and the Council will select the new chair at its meeting of Tuesday, July 15.
Rice is also expected to address the recently completed Disparity Study of the County Procurement System. The County retained consultant Griffin & Strong to analyze its procurement records to determine if there is evidence of discrimination against businesses owned by minorities, women or disabled persons sufficient to justify the continuation of an affirmative action program.  County officials said the study found evidence of discrimination.
Council President Rice said he intends to hold regular briefings to help explain and expand on upcoming issues facing the Council.